The Olympics are going to be here before you know it.  We here at PenguinPoop have a question for you. If Evgeni Malkin's team takes on Sidney Crosby's team, which team will you be rooting for to win the game?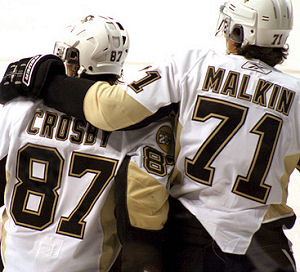 There are many things to take into consideration before just throwing your vote in. On Sidney Crosby's side you have Marc-Andre Fleury, but on Evgeni Malkin's side you have Sergei Gonchar and also a guy who spent his entire NHL career in Pittsburgh, Aleksey Morozov.
Then there is the dark side. Do you root against Malkin's team because the new captain of the Washington Capitals Alexander Ovechkin is on it? If your doing that then don't forget that Crosby's team has the Philadelphia Flyers captain Mike Richards on it, and possibly New Jersey Devils Martin Brodeur in net instead of Fleury.
While I will be rooting for all of the Penguin Players and Pittsburgh native Ryan Malone in the Olympics even when they are competing against each other, the hardest time to root for them will be when Fleury is in net, then I will really have to pick sides. So far the only game scheduled that has Penguin facing Penguin is on February 21st at 4:40 PM when Brooks Orpik and the USA team takes on Crosby & Fleury's Canada squad. The other meetings will have to take place in the quarterfinals or medal games.
[poll id="6″]