While both Philadelphia Flyer fans and Washington Capital fans both lay claim as to having come up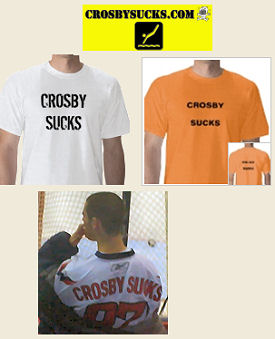 with "Crosby Sucks".  Since the day Sidney Crosby buried the shot between Ryan Millers pads in overtime of the Olympic Gold Medal game, every NHL city across the USA has adopted it as there own.
There are websites, t-shirts, mugs, NHL jersey's that have been modified, Facebook fan pages or lack there of. There are songs, YouTube videos, anything goes so far, except the always original Calvin from Calvin in Hobbes peeing on him and I'm sure that's in the works now also. They've thrown all kinds of sayings at the wall hoping anything would stick "Cindy Crosby", "Cindy Crysby", "Miss Crosby" and they even tried to work in a diving angle. The thing that makes me laugh the most is the fans who have spent hundreds on the "Crosby Sucks" shirts, yet wear his number on their back.
Up in the "great white north" the opposite is happening. People are appearing at the games in wedding dresses asking Crosby to marry them. Though some are better looking than others, the intent I'm sure is the same.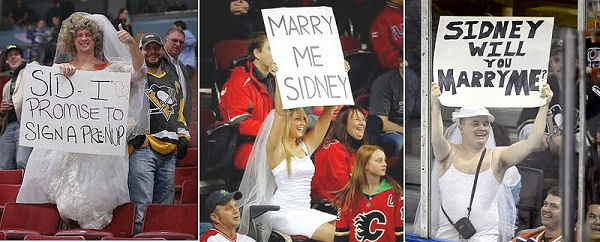 Night after night in New Jersey, Boston, Detroit the fans chant "Crosby Sucks" "Crosby Sucks" "Crosby Sucks".  The best was in Philadelphia when Crosby put in a game winning goal while the fans were chanting it.  He's even had hat tricks at games while the fans scream it.  It gets his adrenaline flowing so much that we even thought of chanting it in Pittsburgh just to get him playing harder.
"Crosby Sucks" song

Baseball player Barry Bonds once said after his steroid scandal that he didn't care if opposing fans booed him as long as his hometown fans didn't boo him.  Of course he also said he didn't do steroids.  One thing is for sure. It is a true sign of respect towards Sidney Crosby. These fans are not hating him because he did steroids, shoved a camera into someone's face or because he's a cheap player who keeps getting suspended. They simply hate him because of the heartache he has bestowed upon them using nothing but his hockey skill.
Facts are facts and the fact is if Crosby did not win the Art Ross Trophy, Lester B. Pearson Award, Hart Memorial Trophy, Mark Messier Leadership Award, Stanley Cup and Gold Medal, opposing fans would be silent every time Sidney Crosby touches the puck. So while we may never truly know who came up with "Crosby Sucks", not much unlike Philadelphia claiming Betsy Ross sewed the first flag and the Smithsonian in Washington DC saying otherwise, there is one thing that we know in Pittsburgh and that is the louder the "Crosby Sucks" the better he's doing.
Required Reading:
Flyer fan says: GIVE UP THE "CROSBY SUCKS" CHANT… WE SOUND LIKE IDIOTS!!!
Share this with friends: