I got my opportunity to go down and see the new home of the Pittsburgh Penguins. I have to say, it was, in fact, very impressive.  
Once I got past the interactive Penguins "hall of fame", I headed up to the main concourse.  
Here, I was amazed by the overall appearance of, well, everything.  There is certainly the overwhelming sense of "new arena" smell and appearance.   After standing there for a couple of minutes taking it all in, I decided to go into the Men's room.  The whole bathroom experience is something that has been a problem forever at the old arena.  My hopes for the new arena were that I might be able to give back my $ 7.50 beer in less time than allowed by the period break.  The lines were horrible in the old place.  It would appear that this new arena is much better suited in this department.
Some might miss the old troughs that were available in some of the Mellon Arena facilities.  The new building features standard urinals.  Maybe having urinals will alleviate some of the congestion.  We will have to wait and see how good or bad the wait will be once the arena is filled to capacity.
The next thing that stood out to me was the food and beverage options.  Much better I must say.  I was a bit uncertain when I heard they had come to agreement with RC Cola to provide the soft drinks.  I didn't even know RC was still pertinent.   Certainly, the type of soda offered is not my main concern.  The main beers at the stands are Bud Light (eh), Miller Lite (better) and Labatt's.  There were some smaller stands that offer the discerning beer drinker a nice alternative with choices like Hoegaarden and Landshark.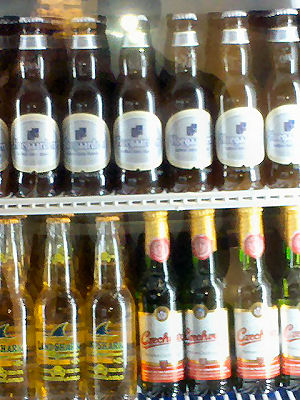 In the Mellon Arena, there were 2 or 3 stands that served IC Light.  Being the kind of guy that likes to support the local breweries, I made a point to go to one of these particular stands to get my liquid refreshment.  I was disappointed to not find Iron City represented anywhere in the new facility.  Maybe I just did not see it, but it was not apparent.
How refreshing to find an alternative to hot dogs and nachos at this wonderful new building.  There is a chain of food stands called Blaze that offers some nice alternatives.
There is a place on the second concourse called The Smokehouse that seems very nice.  Here one can get a brisket sandwich, a BBQ pork or chicken sandwich and kielbasa.  They actually have a person carving the meat right there.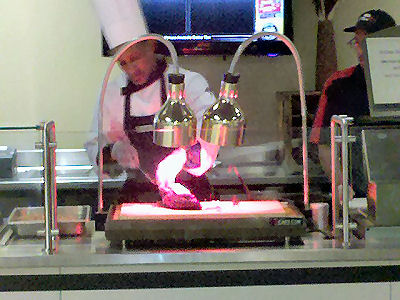 The food booths are also set out of the main traffic flow.  This is a very unique concept, I know. One thing that drove me crazy at the Igloo was the food and souvenir stands encroaching into already tight and overcrowded walkways.
Overall, the food and beverage offerings should be a huge upgrade.  One thing has not changed; you will still have to take a loan out to afford a night of eating and drinking while watching your favorite hockey team.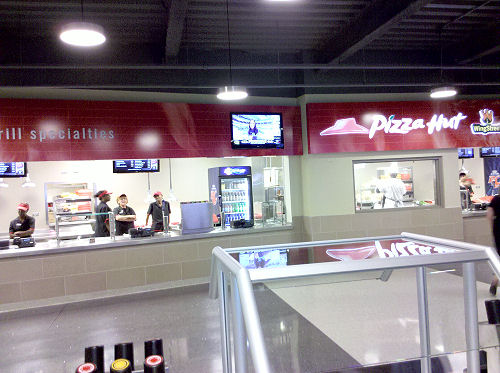 Probably the one thing that I found myself disappointed with was the sightline from my new seats.  Initially, I was pleased when I got my new seat assignment. On paper it looked about as good as I could have hoped.  At the Igloo, I had front row, aisle seats in the F balcony.  I loved my seats.  The way the Igloo was constructed, the balconies hung over the lower levels.  So, sitting in the front row of F, though at first seeming less than desirable, was awesome.  Now, I am not stupid, I knew that just about everyone else would get preference over us folks in F, but I still found myself feeling a bit bummed.  The upper bowl in the new building does not overhang the lower level.  Therefore, my new seats are quite a bit further away.  I still retained an aisle seat and our group in F is still sitting together, but I can' t help but be a little disappointed.
Don't get me wrong, I am still happy to be able to go to the new building.  I will love the whole experience.  It is not as if I am going to have a hard time seeing the action, but what I had with my old seats was sort of a hidden gem.
Some more pictures of the new Arena:
I am pretty excited to head down to the Consol Energy Center for the season opener.  It should become even more inviting as new restaurants and bars start to populate the area as I predict they will.  For as long as I can remember, it has been a struggle to get into one of the few, overcrowded places that everyone flocks to before the game.  It would be nice to have a few additional options for the fans. 
Here is to looking forward to a new season, a new arena and a fantastic new experience with the Winter Classic!
Check out StadiumJourney.com's reviews of the new Consol Energy Center:  www.stadiumjourney.com/stadiums/consol-energy-center-s123/