I'm back after an all expenses paid golf trip that included Ovechkin, Semin, and Brodeur in my foursome.  I would still be golfing but I hurt my back after falling off of the ball washer.  Anyhow during my much deserved vacation, cards and letters have been piling up at the home office so I am going to finish answering them in the order they were received:
YES, NO, Winona Ryder, 43, Basketball, Mr. McFeeley, Niagara Falls, Bobby Clarke, Liberace, Lookin' at Lucky, 7, Good Fellas, bacon.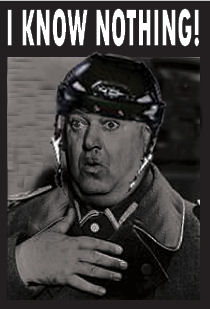 And now for the rest of the questions: 
Hockeyhab writes:  Shultz, Do you think the refs are being fair?      Fair?  Yes!  Good?  No!  All of Canadia goes nuts when a Habs player mysteriously trips over the blue line begging for a call.  As evidenced in the multiple DIVING calls your guys have collected, yes I think the calls were fair!  At least your divers aren't wearing speedos!  That would most likely result in another unsportsmanlike call! 
Pensin10 writes:  Hey Southside, isn't it amazing that Staal has returned so quickly?      Yes Pens, much of the hockey world was surprised to see 11 back on the ice.  Not only is he back but he is looking like he never missed a stride!  I'm pretty sure he had the same doctor as Steve Austin in The 6 Million Dollar Man.  I am also surprised that Subban was never called for a match penalty or at least fined for the vicious leg whip that took Staal down.  Watch the attached video and decide for yourself.  While I was watching the Habs vs Caps series,  I couldn't help but to notice that after every scrum the Habs players looked to be careless with their skates and stepped on a lot of feet and legs.  After watching Subbans leg whip on Staal why not look at the hit from Subban that almost took out Cooke!  Coincidence?  I say No! 
FrenchyFrye writes:  Ha ha Shultzie!  Your prediction for a sweep was wrong!  Now don't you feel stupid?       Not really Frenchy, I will tell you that the other day I felt pretty dumb because I saw a guy in a Habs jersey and I told him that I didn't know they made habs jerseys in mens sizes.  As far as hockey is concerned, I have no idea why we didn't sweep your sorry arses.  Usually talent, skill, and hustle will triumph over luck (which is ALL you have going for you)!  You should feel even luckier that we let your Mighty Mites squad linger like the stench of a French cab!  Pens in 6 by a HUGE margin! 
Mime4U writes:  I was at game 3 in Montreal and they had a white out where people were waving white towels.  Can you tell me where this tradition started?     This ones easy!  France 1940! 
Well that's all I have for today!  Mom, we send our love and hope you have a great day! And so I leave you with……a skating monkey!
More "I Know Nothings":