Well, it was a long Summer but alas hockey season is finally here!  Lots to look forward to including a new arena (The Powerhouse) and the upcoming Winter Classic.  Bristling with excitement I stopped by our new home office atop the splendid PPG plaza to collect my mail from the off season.  Special thanks to Rudy from Manitoba, Canadia for sending the shoebox filled with perch filets! I only wish I had been in the office in June so that I could have enjoyed them.  Let's get down to business shall we?
Ms. Jean Whitford writes:  Dear Shultzie, how did you spend your Summer?
Well Jane, this Summer has been amazing for sure!  My wife and I welcomed a baby boy to our family late in July.  He sort of looks like Sergei Gonchar only he has tons of hair.  In fact, his hair was born a half an hour before he was!.  He is a wonderful little guy!  Kind of like hanging out with Theo Fleury…besides being about the same size: he goes to bed with a bottle, wakes up to a bottle, and he slobbers a lot.  By the way, whoever made up the saying "slept like a baby" most likely never had one because it would mean that they cried all night and crapped in their pants!  He's 9 weeks old now and has a better plus minus than Ryan Whitney!  I think our little guy will be destined to play in the NHL.  We had him baptized last Sunday and the holy water came from Mario's pool!  Fatherhood is an amazing thing though it has posed unique challenges.  Just last week a hockey pal of mine invited me to have a beer and some wings after the Pens beat Detroit and I replied "That's OK I have a little boy at home waiting for me", which seemed like a good excuse unless you were among the dozens of people that didn't know I was talking about my Son.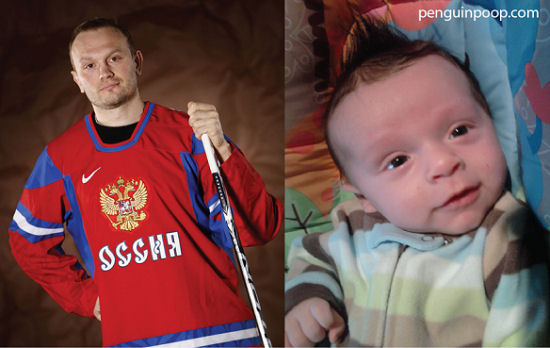 Ben Dover from Montreal, Canadia  writes:  Hey Southside!  What do you think of the Winter Classic Sweater? 
First of all Ben, it is only called a "sweater"  if it is on or has been on a hockey player , even then the only person allowed to call it a sweater is said hockey player.  Beyond that it shall be called a jersey.  As far as the WC jersey, I'm not thrilled at all by the design or the idea of going with that baby blue scheme.  I especially don't like the font (type style) of the numbers and letters.  The name letters look like the cheapo knock-off ones of a couple of seasons ago.  The numbers look too much like soccer numbers.  Personally I would like to have seen them go with the black and gold jerseys of Lemieux's rookie year!  Why not go with the black and gold at Heinz Field?
While we're on the topic of Jerseys I would like to once again pronounce Wednesday, October 6th as the Official Wash Your Jersey Day!  The Hockey Gods have assured me that no bad juju can come from washing your jersey on this day.  Last year on WYJD my jerseys were so stained that the aroma coming from the laundry room made my wife and neighbors think that I was making soup.
Still on subject!  A great friend of mine and fellow POOP contributor does a great Clint Eastwood impression in telling me "A man's got to know his limitations!".  That my friends is why I am going to share this next gem with you!  Im normally not a nacho fan but the pulled pork nachos at "The Powerhouse" are so damn good it will remind you that "PORK" is not just a verb!  That said, any nacho lover will tell you that the cheese will not only stain your clothes but also your fingers and the insides of your gloves.  That is why I am advocating the purchase the aforementioned Lemieux rookie jersey!  Not only does the jersey render the cheese spackle invisible it allows for future use.  Now if I can find a semi-see through shirt for when I order the BLT at OTB!
Sadly "Cotton Candy 'ere" Kenny will no longer be schlepping giant clouds of action blocking cotton candy on a stick.  Before you start to cry let me tell you that there will indeed be cotton candy at the PowerHouse, it is just being sold by the bag (a very, very small bag) and not by the stick.
This season I would like to introduce a segment I am calling "WTF?"  Here's how it works:  I will provide an image or a question for you, the reader to ponder. The first correct answer to be sent via e-mail to southsideshultzie@penguinpoop.com will receive an amazing prize selected from stuff I have in my Southside garage!
Here's this weeks entry:   This is an image of an actual hockey card that was printed and sold world wide by OPEECHEE.  As much as I love to play with Photoshop I can assure you that this is indeed an official card!  Take a close look and let me know WTF is wrong with this picture!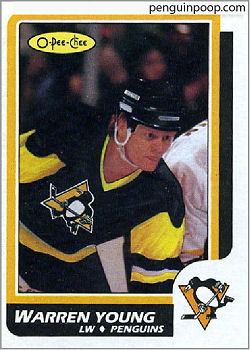 WANTED:  Crazy Hockey fan with tons of extra time to help me keep track of a very obscure but what I believe to be an immensely important and useful statistic!
Every season a ton of attention is paid to PP/PK stats.  My point has always been that the current method of gathering these statistics is flawed in many ways.  My proposal is to make the PP/PK statistic to read as goals scored/given up per minute instead of per chance (which is a vague stat considering a PP can be 1 second or 5:00).  Your task is simple and you ARE permitted to use scratch paper and a "#2" pencil (ha ha) .  The first person to email me at Southsideshultzie@penguinpoop.com with the correct statistics will also receive an amazing prize selected from stuff I have in my Southside garage!
And now I leave you with…skating monkeys!