As an NHL coach, you never want to do something that makes your GM look bad.  Last year coach Dan Bylsma benched Miroslav Satan one of Ray Shero's off season acquisitions because he just didn't fit into the his up tempo system. This season Shero acquired Alexei Ponikarovsky at the trade deadline and after 17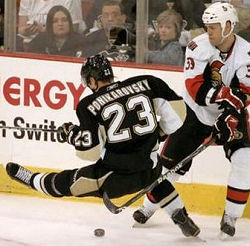 games, it looks like he just doesn't fit in with the team.
I'm sure Ponikarovsky wasn't at the top of the list of players Shero was looking to add to the team before trade deadline and I do believe it was good idea giving him a shot as they definitely are in need of a prolific goal scoring winger. Unfortunately Shero is not allowed to test a player to see if he fits into the system before trading for him.
Ponikarovsky has the worst plus/minus per game than any other player on the team. I say that as "per game" because he has only been here 17 games, though in those 17 games he's still managed to be 4th worst overall in plus/minus. He was brought in to help with the powerplay as he was one of the leading powerplay guys time wise on the Toronto Maple Leaf's team, coach Bylsma tried him on the powerplay and decided against it.
What he doesn't bring to the team is easier to list than what he does, so here is what he doesn't bring to the team:
Playoff experience. He hasn't been in the playoffs in 7 years and in 24 playoff games including last night he has one goal.
Forechecking. His lack of speed and overall awareness of where he should be on the ice has led to his team worse 5 times the giveaways as takeaways.
Scoring. He has two goals in 17 games. That works out to be 9 goals in an 82 game season.
Passing. This guy is not a good passer (see the team worst giveaway/takeaway percentage above), and he doesn't have the speed or endurance to cycle the puck the like his teammates do.
Winning mentality. Being in Toronto all these years, he just never got it. This looks like a guy that is doing what he can to stay healthy so he can get a good contract next year. Help him out with that, let him watch from the press box.
It is time to start using Ponikarovsky the way they used Miroslav Satan, in emergency situations only. I'm calling the Penguin coaches out on one of their worst decisions this season:  Benching Mike Rupp last night who has given his all this season playing 81 games, getting only 9 minutes a game on the 4th line all the while getting 13 goals was the wrong thing to do.
This is the playoffs. Shero & Bylsma need to jump over the whole who looks good, who looks bad if someone is benched thing and put the best players on the ice. Sorry to Ray Shero, but Ponikarovsky was a poor acquisition, thankfully we didn't give away much to get him. Bench him now and let's get on with winning the Stanley Cup.