Leaving the arena yesterday after the 3-1 loss to the Canadians, I was a little confused as to what teams actually played. It looked like game 8 in the Caps/Habs series.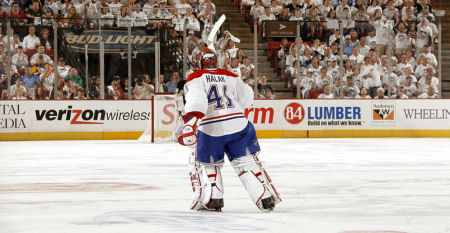 Halak stopped everything after Matt Cooke's first period goal. The Penguins must not have watched the game tape of game 7 of the Caps/Habs, because the Penguins refused to go to the net, screen the goalie, and play dirty playoff hockey. I hope the Penguins learned a lesson from today's performance. I bet if you ask the Caps if they learned anything from their series with the Habs they would tell you the same thing: go to the net, screen the goalie, and play dirty playoff hockey.
The Penguins need to make a few changes to their lineup. Bench Ponikarovsky and Fedotenko, because they are doing nothing but taking up space. Let's face it with their play in the playoffs to date, the Penguins could suit up a refrigerator and an empty milk container and no one would know the difference. The Penguins should put Chris Conner and Eric Tangradi in their place. These two players are hungry to contribute and play the North American style of play that the Penguins should have played today.
I'm confident Coach Disco will read this, and make the necessary adjustments to beat the Habs in five. I cannot wait to tell all of those Habs fans, "Art told you so!". Can anyone help me with my French?