Head Coach Dan Bylsma has taken a seriously innovative step in creating a very different type of powerplay here in Pittsburgh and even though the numbers are not there right now, if you give it time, it could become one of the best ever. The Pittsburgh powerplay has a problem like no other in the NHL.  How do you find space for two of the leagues biggest superstars?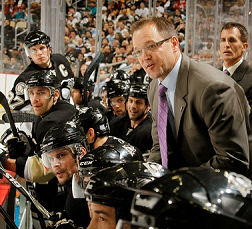 Bylsma has worked it out, let three of the players, Sidney Crosby, Evgeni Malkin and Alex Goligoski roam. The movement on the powerplay has been spectacular, the passing is fantastic, the goal scoring just isn't there yet. 
There are a few little tweaks they could work on. Kunitz seems to be facing the goaltender more often than not which seems to be causing him to block many of his own teams shots. Have Kunitz do hours of tip the puck drills while facing the players who are shooting.  This may be a powerplay that actual doesn't need a man in front, the puck is moving so fast, maybe just set two guys up in front for rebounds or let Asham get out there and mix it up in the middle, a right handed shot can't hurt. With what Bylsma created, the options seem endless.
The powerplay has shown promise, but the numbers are just not there. The Penguins rank 12th in the league in powerplay goals, but because they have had more powerplay chances than any other team in the NHL, they rank 26th in powerplay percentage. These numbers are not that bad considering not one of the players on the powerplay grew up with this type of system. There seems to be a learning curve.
I usually don't like going all football on you, but a number of years ago the Steelers defense went with a similar approach when Troy Polamalu joined the team.  Everyone thought defensive coordinator Dick LeBeau had lost it. Polamalu was everywhere and anywhere he wanted, without structure there was no-way it could work. Well the Steelers took to the structured chaos and haven't looked back.
I don't know if that was the catalyst for what Coach Bylsma was thinking, but it sure looks like it to me. Though the Penguins went 0 for 5 against Dallas last game, the chances were there considering the amount of times the players hit the posts, the butt end of the goaltenders stick, or just hit Kunitz, for the other team luck like that just won't hold up every night. When the Penguins find the right combination and the players have confidence with this system, this powerplay will happen.