Every single thing that Sidney Crosby has done since scoring what the Canadians have dubbed the "Golden Goal" has been diagnosed, analyzed, investigated, re-diagnosed and interpreted by writers, bloggers, commentators, farmers, the girls that want to marry Crosby and every single person who is old enough to have an opinion North of the Border.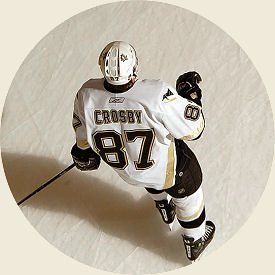 Hey Sidney Crosby's luggage was lost. Hey Crosby turned down David Letterman. Hey the fans in Pittsburgh booed Crosby when he returned. Most likely some of this stuff has merit as a big story, for example most likely his gloves and stick would be headed to or would already be in the Hockey Hall of Fame in Toronto.
This is not the first time that Crosby turned down David Letterman and it probably won't be the last.  This is not hurting the NHL, the NHL is doing a good enough job of that without any help, Crosby not being on Lettermen is getting the NHL more press than they would have got had he gone on.
The fans in Pittsburgh did not boo Sidney Crosby, we did not cheer real loud, but our soft cheering or non cheering combined with the booing of a couple of hundred or so Buffalo Sabres fans who made the 3 hour drive to the game in hopes of cheering on Silver Medal winning Ryan Miller made it sound like we were booing. I assure you that Pittsburgh hockey fans did not boo Sidney Crosby.
My favorite articles and posts to read are the ones that say Crosby has no personality or that he is boring. Yes, it is true that he doesn't go around smashing peoples cameras and doing funky dances every time he gets an empty net goal, he's not getting accused of sexual harassment in an Atlanta bar or purposely making stupid quotes about other players or their wives. He plays hockey. He plays hockey very well, and he leaves the rest on the ice. When everyone wanted to hear what Henrik Lundquist said to him when they got into a scrum behind the net the other day, Crosby claimed that his policy is: What is said on the ice stays on the ice.  It's like Vegas down there.
Crosby is a team player first, that is why he has been skipping Letterman requests in the middle of the season, look at when Tony Romo went to Mexico with Jessica Simpson in the middle of the playoff season, their still blaming him for that loss. Being a team player is also why he didn't gloat about his "Golden Goal". He had to come back to the Pittsburgh locker room and face players that he had beaten.
Pittsburgh is different than most cities for sports stars to live in. We have had many come through here or end up living here permanently because the people of Pittsburgh for the most part do not harass the players.
Pittsburgh has had more of the top 15 all time scorers in the NHL live and play here than any other city, heck we had an NHL team before Detroit and they're a member of the "Original Six", go figure. Our NFL team has won more Super Bowls than any other team and our MLB team played in the first World Series ever. The Pittsburgh media has been there – done that and I don't think they care to own a magnifying glass anywhere near as powerful as say New York, Philadelphia or Canada's. Unfortunately Crosby's going to have this giant microscope sharing with us every time he sneezes until memories of the big game slowly fade away or he "bores" them to death whichever comes first.