PenguinPoop's top 25 gift ideas for the Pittsburgh Penguin crazy fan in your life. Toasters, Gnomes, items going for $3.99 to thousands of dollars. We did all of your holiday shopping leg work. You better hurry, many of the items are in limited supply! 
Here is our top 25 Pittsburgh Penguin gift ideas in no particular order. The prices given we're the prices at the time I found the item. You can click on the picture of the items for more information, or for actual purchasing, as I said, we did the legwork for you!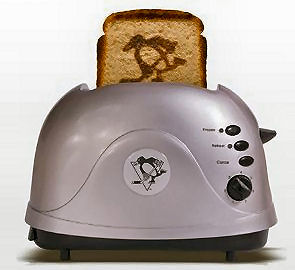 ---
---
Winter Classic Tickets
This is the gift that all true Penguin Hockey fans want.New Years Day  
 Penguins vs. Capitals, Sidney Crosby vs. Ovechkin outdoors at   
Heinz Field.  Tickets range in price from $170 a piece to thousands.    
Here are 3 of the many places they can be purchased: 
---
---
---
---
---
---
---
---
---
  
Civic Arena Seats
If you haven't heard, they have removed the seats from the old 
home of the Pittsburgh Penguins.  These are for sale to 
season ticket holders only until November 30th.  December 1st 
they go on sale to the general public.  For $615 they will ship
two free standing chairs of your choice to your home.  They are
selling fast!  I got 2 orange seats for myself. 

 
---
---
Pittsburgh Penguins Team Carpet Tiles
This is a bit overboard for me, but if you want a room
or your whole house done in Pittsburgh Penguin
carpet squares, you can do it at $4.00 per square foot.
---
---

Pittsburgh Penguins 2011 Winter Classic Team Premier Jersey
You can't go wrong here.  This is the Official Penguins jersey of the 2011 Winter Classic game to be held
at Heinz Field.  This jersey will also be worn two more times this year.  It will also be worn by the Penguins
on February 10th vs the LA Kings and March 12th vs Montreal.  It is expected that this jersey will become
the Penguins third jersey next year.  Price range from the non player jersey $124.99 click the link above
or $159.99 for the numbered player jerseys.  Click on the player jersey your interested in above.
Crosby and Malkin are now $154.99 for most sizes.

Sidney Crosby Winter Classic t-shirt $20.99
For those of you more frugal in nature, Here is a list of Winter Classic
t-shirts that are for sale all sizes that range in price from $12.99 and up
Just click on link below.  
---
---
You've got a diehard hockey fan on your hands and/or you
 live out of town.  You have two great options.  Call your 
TV programming provider and order 

NHL Center Ice

 
(prices are different everywhere) where you can watch not 
just the Penguin games, but almost every game live, you 
can order NHL GameCenter Live.  For around $169.00 
you can watch all season long up to four games on your 
computer at the same time, home or away broadcasts.  
Perfect for fantasy hockey players.

---
Pittsburgh Penguins Apron and Mitt Set
I, the grill master supreme, still manage to get BBQ all over me
every time I grill.  For $29.99 I keep that from happening and
prevent burnt fingers all while looking cool.
---
PenguinPoop Candy Dispenser
My sister has one on her desk at work,
PenguinPoop writer Southside Shulzie has one.
It's a Penguin Pooping candy dispenser, how
could this not make our top 25  Plus it's only
$5.75. Everyone needs one.
---
---
---
---
Pittsburgh Penguins Winter Classic Puck
Great piece of memorabilia for only $8.95, this is probably the
only time the Penguins will ever play on Heinz Field.

If your for a harder to find puck gift, the one below is only $99.99


 

Mario Lemieux Hand Signed Pittsburgh Penguins NHL Hockey Puck

Got a special puck you want to display? For $24.99 you can get this:
Pittsburgh Penguins Single Hockey Puck Display Case
---



Be a part of Penguin History, add your photo to the Mario Mosaic today!




This is too cool.  For $66.00 you can have any photo added to the Mario Mosaic.  They did not get enough 




 

photos in time for the original mosaic that is on display at the Consol Energy Center.  So they are again 




 

taking submissions for the new completed mosaic which will be displayed at the beginning of next season.  




 

Having your photo permanently displayed where the Penguins play hockey and having the $66 go towards  




 

the Mario Lemieux Foundation's cancer research projects and Austin's Playroom Project, 




 

it's the gift that's keeps on giving!

 
---

Still haven't found what your looking for?  Here is a list of thousands of Pittsburgh Penguin Gift Ideas that can be shipped:
Pittsburgh Penguins Gift Ideas




*We here at PenguinPoop are not responsible for the happiness of the gift receiver, we are only recommending.  




 

In case of fire do not use elevators.  Consuming raw or undercooked meat, poultry, seafood, shellfish and eggs 




 

may increase the risk of food borne related illness. We are only watching the game, controlling it.  These posts may contain nuts.