The combination reads 87, 71, and 17,132.  Tomorrow night's game 7 will be a home game, where the stars need to shine.  No better way to spend 60 minutes than with your heart in your throat, on the edge of your seat, tearing out your hair, and jumping up and down.  The home ice advantage is one I've noticed more in this series than in the past.  Not because the Bell Centre is loud, but because they fail to acknowledge momentum swinging hits by Craig Adams, Chris Kunitz, or Brooks Orpik.  That won't be the case tomorrow.  They can change the pace of the game with one death-defying blow.  And I can't wait to see it.  That's where the 17,132 come into play.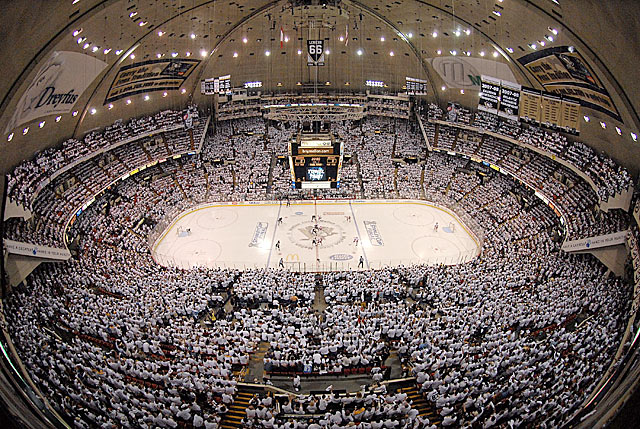 Everyone has been saying that Fleury has been out goaltended this series, but he has won the same number of games as Halak.  Fleury has won 8 of his past 9 Stanley Cup playoff series.  There is no doubt Halak has played outrageously well during the past 13 games, but in game 7, he will be unlocked, deciphered, and solved.  Think, Varlamov one year ago.  That took 7 games too.
Crosby no longer has to answer questions about scoring goals, he just has to do it.  I don't think Hal Gill could have prevented the goal Sid scored in game 6, and Gill or no Gill, Crosby needs to break through again in game 7, a couple of times.  In my mind, Sid the Kid has become Crosby the Clutch, and we'll see more of that tomorrow night.  That's where the 87 comes into the combo.
Halak played well in game 6, but so did the goal posts behind him.  Turning away shot after shot.  None closer than the shot Malkin took off a feed from Guerin.  It seemed destined for the net, but the post had other plans in mind.  I don't think that type of bounce can continue to haunt the pens in game 7, and I can't wait to hear more swish sounds than clanks behind the Canadien netminder.
Perhaps more importantly than Crosby scoring tomorrow, Geno must find the back of the net.  He has dominated play on the ice the past 2 games, but with no goals to show for it.  No more posts, no more slamming into the boards empty handed on breakaways, no more horseshoes for Halak.  Malkin needs to score early in game 7.  That's when the 71 clicks, and the lock opens up.
Its game 7, and anything can happen.  But I feel like the pens have been in this position before, against better teams and away from home (i.e. Washington & Detroit), and come away with the win.  I also feel like the 'win every other game' tactic this series will continue, and the pens will continue to grow their beards.
– Got Malkin?