If you'd spent the past six months marooned on a tropical island and tuned into the Penguins-Lightning game at St. Pete Times Forum on Thursday night, you'd have sworn you were watching an extension of last spring's Eastern Conference Quarterfinals match-up. Employing their nettlesome 1-3-1 trap to perfection, coach Guy Boucher's crew rode the clutch goaltending of ageless wonder Dwayne Roloson and timely scoring from Vincent Lecavalier, Brett Connolly, and Steve Downie to a crisp 4-1 victory.
Same formula, same results.
For the third game in a row the Penguins dug themselves an early hole. At 8:38 of the opening frame Lecavalier struck on Tampa's first shot of the game when he pounced on a rare turnover by Jordan Staal and beat Marc-Andre Fleury for an unassisted goal.
This time around the normally resilient Pens were unable to respond. With Tyler Kennedy serving a high-sticking minor, the 19-year-old Connolly tipped home a blast by ex-Pen Dominic Moore at the four-minute mark of the second period. Remarkably, it was the first power-play goal allowed by Fleury this season.
Unfortunately for the black and gold, it would not be the last. Two minutes into the final period feisty Steve Downie notched a second power-play goal to stake the Lightning to an impregnable 3-0 lead. When Pens coach Dan Bylsma pulled Fleury in favor of an extra attacker during four-on-four play, Lecavalier stole the puck from Kris Letang and deposited the rubber into an empty net at 15:49.
Moments later Kennedy ruined Roloson's shutout bid when he beat the venerable netminder from the left side of the slot for his second goal of the season. The Pens continued to press the attack until the final buzzer, but "Rolli the Goalie" (33 saves) stood tall to seal the victory for the Bolts.
"I don't think we had any quality chances," a glum Letang noted afterward. "I think we took some shots, but I don't think he [Roloson] had a real difficult life back in his net."
Ice Chips
Staal and Paul Martin assisted on Kennedy's goal … Martin (+1) was the only Penguin to record a plus for the game … Pittsburgh out-shot Tampa Bay 34-17 … The Penguins recalled Dustin Jeffrey and Steve MacIntyre from Wilkes-Barre and sent Eric Tangradi to the Baby Pens … MacIntyre dressed in place of Richard Park and saw 1:42 of ice time … The Pens are 5-5-1 against their Eastern Conference brethren; 6-0-2 against the West … Sidney Crosby, Jeffrey, Ben Lovejoy, Zbynek Michalek, Park, and Brian Strait were scratches.
On Deck
The Penguins (11-5-3) travel across the Sunshine state to battle the improving Florida Panthers (9-6-3) on Saturday night. The Pens beat the Panthers in Pittsburgh, 4-2, on October 11.
*Be sure to check out Rick's new book, "100 Things Penguins Fans Should Know and Do Before They Die" at TriumphBooks.com. It features 296 pages of bios, stories, anecdotes and photos from the team's colorful past in a compelling, easy-to-read style. Whether you're a die-hard booster from the days of Jean Pronovost or a big fan of Sid and Geno, this book is a must have for any true Penguins fan.
Don't forget to check out Rick's first book, "Total Penguins," at TriumphBooks.com. A complete and comprehensive book on the team's rich and storied history, it's filled with season-by-season summaries, player profiles and stats, bios on coaches, general managers and owners, photos from the "Post-Gazette" archives, and much, much more.
*Be sure to check out Rick Buker's books,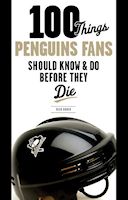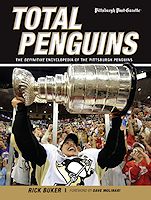 available at TriumphBooks.com, Amazon.com, and BarnesandNoble.com