(Note:  It happens to be a coincidence that "Bombs Away" is appearing for the first time with a post about a meltdown.  We're trying to come up for a title for my mini-rants (kind of funny since I have a hard time writing anything very brief) and that was Krundle's suggestion as a play on my name.  I'm open to ideas from readers as well as my creativity level is at a negative right now.)
I gave myself a full 24 hours to digest what happened Wednesday night to see if I could come up with a more tempered, rational reaction.  I failed.  My reaction still would only be appropriate to be aired on 24/7…I really wish they had stuck around for more of the season.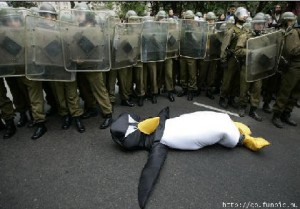 As if what happened back on December 10th against Boston wasn't bad enough, the boys decided to remind us two months to the day later by blowing another 3rd period lead.  This time they did it in grand fashion.  They went from 2-0 to 4-2 in under 3 1/2 minutes.  Well, really less than that.  After two periods of great play, the team decided to only take 2 shots and let Boston outskate them the entire 3rd period leading up to the epic collapse.
I don't want to hear any excuses.  There are none.  If one person says anything about Sid being out, let me say right now that is the biggest line of BS ever.  We passed along a stat on Twitter a few days ago from the Pens that the team was 21-11-8 without Sid in the lineup.  Since his concussion, 0-2-1.  Usually, other people step up big time and fill in when Sid is out.  Specifically, Malkin.  Remember that Hart season that Geno had?  That came when Sid was out for an extended period of time with a high ankle sprain.
So, where is everyone?  All that the team is showing right now is that Sid, Fleury, and the defense have carried this team all season.  With a breakdown in the defense the other night, it showed how screwed we really are.  If Sid and defense are all we have, both the team and fans have a bigger problem to face…you can't go deep in the playoffs like that.  While Sid is certainly making his case for the Hart right now without doing a thing, someone in that locker room needs to be getting this team on track.
I'm not trying to pick on him, but I am looking directly at Malkin right now.  Geno needs to step it up and step it up big time.  He hasn't been having a stellar season and right now we really need him to turn it on.  He's an alternate captain and one of the best players in the league, when he's on his game.  He needs to find his game, and find it fast.  And, I don't want to hear the silly suggestion again that we need to get his parents over here.  He's an adult now.  Oh, and remember when everyone was so anxious for them to get here during the playoffs last year?  Anyone remember how much that helped?  Yep, that's how memorable it was.
This team has worked in the past because of its strength down the center, so that's where it has most of its cap space tied up.  This isn't the time for that system to fail.  That being said, everyone needs to step up and chip in…we need to get back to rolling four dangerous lines and secondary scoring.  This team only works if everyone is showing up every night for a full 60 minutes.  This team relies on its role players as much as its stars.  This team is built on hard work, grit, passion, and heart.
I don't know what Bylsma needs to do, but I do find it ironic that Wednesday night was also the five year anniversary of this gem:
Therrien was in the house that night.  Seth Rorabaugh tweeted out that it was funny seeing him next to the soft pretzel machine in press row which of course prompted lots of "soff" jokes.  How many times do you think Coach T had the urge to yell that at the ice during the meltdown?  I was too disgusted to listen to the postgame, but I doubt that during Bylsma's press conference he called the team out for "a pathetic performance" and looking like "mens against boys" or that he said he was "so disappointed about a lots of guy."  So, show us Disco how you're going to turn things around.