For anyone who's ever fancied himself as a closet general manager, Behind the Moves: NHL General Managers Tell How Winners Are Built is an absolute must read.
Frankly, I was floored by the depth and sheer volume of information packed into this brilliant, one-of-a-kind work. Nestled within its 252 crisply designed pages are five main parts: The Modern Era GMs who Built Stanley Cup Winners; The Challenges of being a GM; The GM Godfathers; Other GMs who Shaped the Game; and The all-time NHL GM Roster.
Author Jason Farris gets up close and personal with a bevy of NHL GMs past and present, from legendary flesh-peddlers like Cliff Fletcher, Emile "the Cat" Francis, and Harry Sinden to new-breed helmsmen such as Brian Burke, Lou Lamoriello, and Ray Shero. Mr. Farris picks their brains on literally every facet of running a big-league club, providing the reader with an intimate, behind-the-scenes look into the art of scouting and drafting, negotiating free-agent deals, and swinging the big, blockbuster trade.
Behind the Moves also features entertaining and informative biographies on every NHL GM who served from 1926-27 up through the 2010-11 season, as well as scores of archival photos.
Being a stats junkie at heart, I especially enjoyed the Appendix. Mr. Farris ranks the performance of the top 100 GMs in categories such as games, wins, and win percentage, for both regular season and post-season play. In addition, he provides a fascinating demographics analysis, based on place of birth and playing background.
Hats off to Mr. Farris for creating a masterpiece. I give Behind the Moves an enthusiastic two-thumbs up.
*Be sure to check out Rick's new book, "100 Things Penguins Fans Should Know and Do Before They Die" at TriumphBooks.com. It features 296 pages of bios, stories, anecdotes and photos from the team's colorful past in a compelling, easy-to-read style. Whether you're a die-hard booster from the days of Jean Pronovost or a big fan of Sid and Geno, this book is a must have for any true Penguins fan.
Don't forget to check out Rick's first book, "Total Penguins," at TriumphBooks.com. A complete and comprehensive book on the team's rich and storied history, it's filled with season-by-season summaries, player profiles and stats, bios on coaches, general managers and owners, photos from the "Post-Gazette" archives, and much, much more.
*Be sure to check out Rick Buker's books,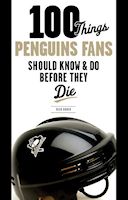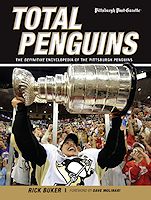 available at TriumphBooks.com, Amazon.com, and BarnesandNoble.com