On Wednesday evening, November 30, Wright's Gym will sponsor a book signing for our own Rick Buker. Rick will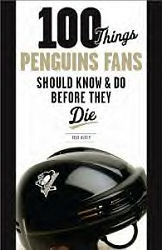 be available to sign copies of his latest book, 100 Things Penguins Fans Should Know and Do Before They Die, from 6 PM-8 PM. Treats from Dunkin' Donuts will be served.
Copies of "100 Pens" will be on sale at the book signing for $15. In addition, a limited number of Rick's first book, Total Penguins: The Definitive Encyclopedia of the Pittsburgh Penguins, also will be available for $25. Buy 'em both for $35.
Wright's Gym is located in the Crafton-Ingram Shopping Center in Crafton, PA, next to the Save-A-Lot food store. The address is 20 Foster Avenue, Pittsburgh, PA 15205, in case you're getting directions from MapQuest.
Don't miss this chance to meet Rick face to face and swap Penguins stories!