Entering Monday night's battle between Eastern Conference heavyweights at CONSOL Energy Center, both Pittsburgh and Boston were riding hot streaks. Following a sluggish 3-7 start, the defending Cup champion Bruins had gone 13-0-1. Meanwhile, the Penguins hadn't lost a home game in regulation play in seven weeks.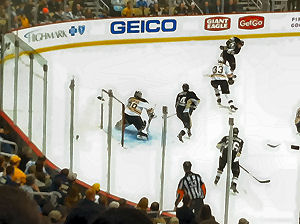 Unfortunately, the Steel City sextet entered the contest with a banged-up defense. With Deryk Engelland, Kris Letang, and Zbynek Michalek nursing injuries, coach Dan Bylsma turned to rookies Robert Bortuzzo and Simon Despres, and game-day call up Alexandre Picard. While the subs generally acquitted themselves well, the Pens clearly missed the three regulars.
Employing their physical, hard-driving style, the Bruins controlled the play during a scoreless opening period. The Pens' best chance came just past the 11-minute mark, when Chris Kunitz set up Sidney Crosby with a crisp cross-ice pass. However, the Bruins' all-world goalie Tim Thomas stopped Sid cold, setting the tone for a frustrating evening.
The Pens' offensive woes continued in the second period. Although they piled up a 17-8 edge in shots they failed to convert on a pair of five-on-three power plays. While the black and gold sputtered, Boston grabbed the lead on goals by grinders Gregory Campbell and Benoit Pouliot. The Bruins made it 3-0 early in the final period when Tyler Seguin gathered in a pass from Patrice Bergeron and beat Marc-Andre Fleury inside the right post.
Adding near-injury to insult, the Pens narrowly averted disaster with 13 minutes left when Crosby slammed into Kunitz in the neutral zone. The partisan crowd held its collective breath as No. 87 laid face-down on the ice. After a long, agonizing moment Sid hauled himself to his skates and hobbled to the bench.
"I don't know what I hit my knee on, if it was his leg or, yeah, just kind of a bit of a stinger," Crosby said afterward. "Nothing major."
Three minutes later Evgeni Malkin absorbed a brutal helmet-first hit by Daniel Paille and headed to the locker room for repairs. Fortunately, Sid and Geno returned to the ice.
The Pens finally gave the sellout crowd a reason to cheer with 9:06 remaining. Joe Vitale intercepted a clearing attempt by Dennis Seidenberg and found Matt Cooke streaking down the left side with a beautiful pass. "Cookie" ruined Thomas' shutout bid by lifting the puck over the goalie's blocker for his first goal in a dozen games.
Vitale provided a shot of adrenalin moments later when he engaged the feisty Campbell in a lively slugfest. Buoyed by the rookie's spirited showing, the Pens dominated play down the homestretch. With five minutes to go Tyler Kennedy and Steve Sullivan ripped off a pair of rapid-fire shots, but were denied by Thomas. The Bruins withstood a late Penguins push to emerge with a 3-1 victory.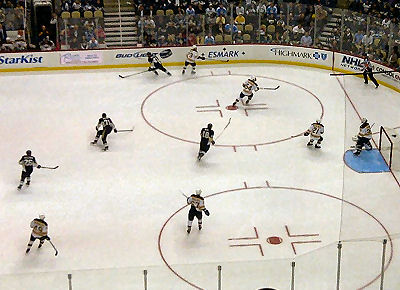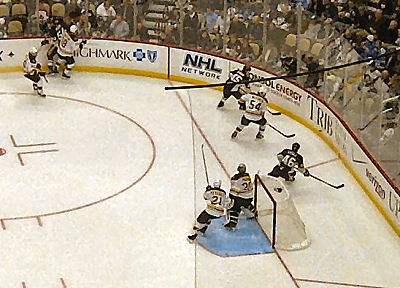 Ice Chips
Vitale earned the No. 3 star … Malkin paced the Pens with a game-high nine shots … Jordan Staal donned a visor to protect an eight-stitch cut under his left eye … The Pens out-shot the Bruins 46-27 … Matt Niskanen fought Brad Marchand in the second period … Boston out-hit the Pens 24-13 … Engelland, Dustin Jeffrey, Letang, Ben Lovejoy, Steve MacIntyre, Michalek, Richard Park, and Brian Strait were scratches.
On Deck
The Penguins (16-8-4) trek to the "City of Brotherly Shove" to take on Jaromir Jagr and the Flyers (15-7-3) Thursday night. The Pens trail the all-time series (87-133-34).
*Be sure to check out Rick's new book, "100 Things Penguins Fans Should Know and Do Before They Die" at TriumphBooks.com. It features 296 pages of bios, stories, anecdotes and photos from the team's colorful past in a compelling, easy-to-read style. Whether you're a die-hard booster from the days of Jean Pronovost or a big fan of Sid and Geno, this book is a must have for any true Penguins fan.
Don't forget to check out Rick's first book, "Total Penguins," at TriumphBooks.com. A complete and comprehensive book on the team's rich and storied history, it's filled with season-by-season summaries, player profiles and stats, bios on coaches, general managers and owners, photos from the "Post-Gazette" archives, and much, much more.
*Be sure to check out Rick Buker's books,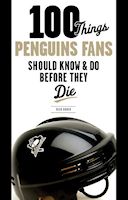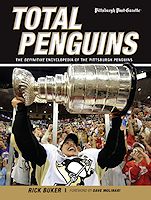 available at TriumphBooks.com, Amazon.com, and BarnesandNoble.com