Like all Penguins fans, I anxiously awaited Sidney Crosby's press conference at the CONSOL Energy Center on September 7. While I hoped to receive news that the iconic Pens' superstar was given the green light to resume his career, I also harbored a ghastly fear that he might be announcing his retirement.
Recent hockey history is littered with stories of superstars whose careers were ruined by concussions. Pat Lafontaine, a gifted center during the 1980s and 90s, was forced to hang up his skates prematurely. Boston's equally talented Marc Savard has been shut down for the upcoming season. Who can forget the specter of hulking Eric Lindros sprawled motionless on the ice after absorbing a huge hit from Scott Stevens?
A lack of understanding about concussions may have been a contributing factor. Lindros has spoken openly of how the Flyers prodded him to return by questioning his machismo. For Lafontaine, it was the natural desire to play against the advice of his doctors.
Fortunately, the Penguins are taking a patient approach with Crosby. Flanked by Pens GM Ray Shero and Drs. Michael Collins and Ted Carrick, Sid explained that his symptoms flared last month when his workouts reached 80-90 percent intensity.
Dr. Collins isn't surprised.
"The types of symptoms Sid had initially are exactly the type of symptoms that we see that end up taking the longest to recover from with a concussion," he said. "The first time I saw Sid [Jan. 6], I knew we were in for the long run with this injury, and quite frankly I wasn't, nor am I now, surprised that it's taken this long for Sid to start improving. And yes, we are seeing significant improvements recently."
Crosby's concussion woes are eerily reminiscent of another potentially career-ending injury suffered by a Penguins superstar some 21 years earlier. In an ironic twist of fate, Mario Lemieux was felled by a herniated disc at virtually the same point in his career—midway through his sixth NHL season.
Like Crosby, Lemieux initially tried to push through his injury in order to rejoin the team. After submitting to back surgery during the summer of 1990, No. 66 began a workout regimen and was slated to play in exhibition games until searing back pain halted his recovery. It was revealed that Mario had developed a serious infection around the surgically repaired disc. Bedridden for months, there were concerns that he might never play hockey again.
Mercifully, the infection cleared in time for Lemieux to make a triumphant return for the 1990-91 stretch run. Soon he would lead the Penguins to a pair of Stanley Cups. Although he never quite regained his incendiary pre-injury form, Mario still was good enough to capture two more Hart Trophies and three more scoring titles while firmly establishing himself as one of the sport's all-time greats.
Let's hope we're as fortunate with Sid. It truly would be a tragedy to see such a promising career cut short. To their credit, the Penguins are handling the situation the right way.
"It's measuring and assessing the whole way and making sure that the cows are back in the barn," Dr. Collins said.
*Be sure to check out Rick's book, "Total Penguins," at TriumphBooks.com. A complete and comprehensive book on the team's rich and colorful history, it's filled with season-by-season summaries, player profiles and stats, bios on coaches, general managers and owners, photos from the "Post-Gazette" archives, and much, much more. A must have for any true Penguins fan. 
*Be sure to check out Rick Buker's books,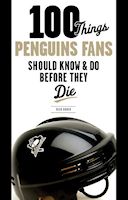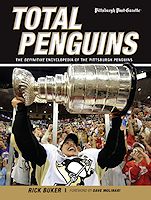 available at TriumphBooks.com, Amazon.com, and BarnesandNoble.com