A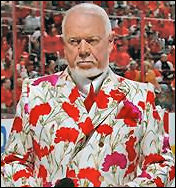 couple of weeks ago I started to write a piece about the offseason passing of three NHL players: Rick Rypien, Wade Belak, and Derek Boogaard. I waited to finish it because I felt I needed something to put everything into perspective.  During a recent episode of "Coach's Corner" Don Cherry referred to Stu Grimson, Chris Nilan, and Jim Thomson as a "Bunch of Pukes" for allegedly publicly suggesting those who fight in the NHL are more likely to turn to substance. I want to thank Don for his remarks, as well as Stu Grimson's law firm Kay, Griffin, Enkema & Colbert, P.L.L.C. for providing me personally with a copy of the official statement from Stu Grimson, Chris Nilan, and Jim Thomson towards Don Cherry's comments. 
Here is the Statement: 
STATEMENT OF STU GRIMSON, CHRIS NILAN & JIM THOMSON
October 11, 2011 – The law firm Kay, Griffin, Enkema & Colbert today issued the
following statement on behalf of Messrs. Grimson, Nilan and Thomson:
"During CBC's broadcast of Coach's Corner on October 6, 2011, Don Cherry
inserted himself into a prominent debate involving the recent tragic deaths of
three (3) NHL players, drug addiction, alcohol abuse and mental illness. In
doing so, Mr. Cherry targeted the above-named individuals, some of whom
have suffered from such diseases, as a result of views they previously
expressed. Mr. Cherry's comments were more than inappropriate; they were
baseless and slanderous. Furthermore, Mr. Cherry's subsequent attempt to
qualify his comments on October 8, 2011, was entirely ineffectual. Mr.
Cherry's conduct throughout has demonstrated a complete lack of decency.
In light of the damaging and inflammatory nature of Mr. Cherry's comments,
Messrs. Grimson, Nilan and Thomson are considering further recourse."
 
I was able to get in touch with Riley Cote (former Philadelphia Flyer tough guy). Reid Simpson (a former NHL tough guy who played in the league for 17 years) and Allain Roy (a NHLPA certified Agent President and CEO of CMG Sports and his company represented Rick Rypien).
I asked the three gentlemen about their thoughts on the recent passing of Rick Rypien, Derek Boogaard, and Wade Belak and what they think the NHL can do to help prevent something like this in the future.
Riley Cote: A very sad summer for the hockey world, especially in the tough guy world. All three are completely different cases and can't be compared in the same way.  I think it's ironic that of the three that passed away they were all "tough guys".  Maybe there is more of an emotional battle, being a fighter. There were plenty of the old school tough guys who somehow managed to deal with it. Is it a easy job, absolutely not. That's what you sign up for. Can the NHL prevent something like this in the future? Doubt it. The problem goes much further then the NHL. Anytime you mix alcohol (a known depressant) and painkillers/pharmaceuticals, just a matter of time something happens.
Reid Simpson: I'm sure I have played through concussions. I have had my bell rung, and at that time I never took it serious. Not like today. I played through it. I never wanted to hear someone tell me I could not play. I do not feel like I have concussion effects or depression today. After Bob Probert passed away at such a young age, I decided I needed to go to the doctor and checked out. The doctor told me that I am in good health. In my opinion "team guys" did everything for their team and after their playing career is over there is "no team". For some guys that is hard to handle. It was hard for me. The Chicago Blackhawks Alumni are great, they have been a tremendous help to me. This summer has been a eye opener. I truly think some guys can't handle the role they have been put in and never quite wanted to do it. I had the ability for some reason to go to the rink and turn on a switch and do my job. I didn't loss too much sleep. I lose more sleep now worrying about life after retirement. Derek Boogaard and Wade Belak were good friends of mine. I have been to Las Vegas with Derek and have been in comedy shows with Wade last fall. I never saw that side of Derek. The side I saw was a good guy, funny, and he liked to joke around. 
Allain Roy: In my opinion there is zero connection. All three deaths were different. Rick had physiological issues his whole life. Derek's death was accidental. They only thing that can be drawn a parallel is the role they had on their respected teams. I think the NHL should make the issue of mental health for a player just as important as a player's physical health. Players fear if they bring it to the attention of their respected teams that it will be viewed as a negative.
After talking to all three individuals, I would like to see the NHL do something for their current and former players to provide whatever help or support they need throughout their playing careers and into life after playing.
I also happen to agree with Stu Grimson's comment that "Don's mutterings are kind of akin to that of a old uncle that nobody takes serious anymore. I'm not going to get too fired up about it".  I had a uncle that like that. He like Don sometimes did not think before he spoke. After a while we paid no attention to him.
Currently Stu Grimson is just in the preliminary stages of exploring what legal options will be available. Like my mother told me when I was little "Sticks and stones can break my bones, but names can never hurt me". Although this time it my actually hurt Don Cherry.
I want to thank Riley Cote @rileecoyote, Reid Simpson, Allain Roy @alroy42, and Kevin Miller @kbmiller23
If you would like to follow these guys on Twitter: Stu Grimson @asgrimson, Chris Nilan @knucklesnilan30, Jim Thomson @jimthomson33, and JTI Sports Management @JTISportsMgmt