Some people say Summer is the best season. Some say Spring or Fall.  My favorite season is hockey playoff season.
The Penguins will be playing their first playoff game tonight in the Consol Energy Center and at the same time will be playing their first playoff game ever against the Tampa Bay Lightning.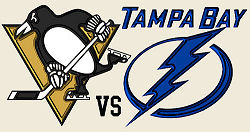 Here is the Penguins proposed lines tonight:
Kunitz-Staal-Kennedy
Neal-Letestu-Kovalev
Dupuis-Talbot-Conner
Rupp-Adams-Asham
Keys to the Penguins winning the series:

Goaltending. Marc Andre Fleury must be at his best.
Pens must Win the home games. Tampa overall has a goal +/- of +27 at home -20 on the road.
Penalty Kill: Tampa leads the league in short handed goals against, Pens are #2 in short handed goals for. 
Neal and Kovalev need to show up. It will be tough to go far if these two don't start producing.
Conditioning. The Pens must stop the initial Tampa rush. Tampa is second in the league in first period goals. At the same time Tampa is second in the league in goals against in the third period. This is either the result of poor conditioning or playing their stars too much.
Defense. The Penguins must continue to play the type of defense they played all season. It's that simple.
Michalek on point the powerplay. Taking Martin off the 1st powerplay point and adding Michalek now doesn't allow the opposing goaltender to cheat towards Letang. If Letang starts hitting the net, the Pens will have a great 1-2 punch on the powerplay.
Stay out of the penalty box. Tampa's has a very powerful powerplay. The best way to stop there powerplay is to not let it start.
Tampa Bay's Steven Stamkos & Coach Boucher aren't falling for all the fake hype the Penguins are spewing about Sidney Crosby not playing until he's cleared for contact drills. "We're going to expect he'll be in the lineup," Stamkos said and Tampa coach Guy Boucher said: "So to me, he's playing, period." For once I really hope the other team has some top secret information. You can read more here: "Tampa Bay Lightning plans as if Pittsburgh Penguins' Sidney Crosby will be back"
It's a white out tonight at the CEC, but they are not giving away shirts, you have to provide your own white shirt.  Luckily every season ticket holder got a personal call from Mike Lange telling them to get their official "White Out" shirt at Dick's Sporting Goods. For a mere $19.99 you can get a white Penguins shirt from Dick's, you know, just in case you don't own a white shirt or haven't stored up 50 "white out" shirts from previous games.  I tried to talk to Mike Lange to ask him if this was a true PSA or  just another way of the Pens getting more advertising money, but he just hung up on me. 
They are giving away free rally towels tonight.
The big screen is back for those of you without tickets who like to watch the games outdoors.  It has been put up in the Civic Arena south parking lot and will be available for viewing the entire Tampa Bay series. All games home and away will be televised there, that is until the evil NBC takes over broadcasts of the game.
I just read this:  Tampa Bay's Vinny Lecavalier and Pavel Kubina were roommates back in 2000. By doing what most really good reporters do to make a story better, I cut out some parts. "Always it was like (Lecavalier) would say, 'Not tonight,' and I would say, 'Okay,' and the other guy would jump him," Kubina said. "The next night it would be, 'Not tonight, let's go to sleep,' and the other guy would jump him." "Oh, God, don't write about that," Lecavalier said. You can read the rest of the story here: Nuts & Bolts
Max Talbot Tweeted the other night: "Amazing Job from Plum s high school again! Check this out." The kids from Plum went and made another one of those videos where they go dancing all over the school in Penguins gear. Because of Youtube's music restrictions we can't show it here. Here is the link to watch it: Plum High School 2nd annual Pittsburgh Penguins lipdub
* The "Gameday Poop" is provided to give you enough information to sound intelligent while talking about hockey for 10 minutes. Anything after that and your on your own.
.