The Penguins proved on Wednesday night that hockey is a team sport. You play as a team, you win as a team. The Penguins organization has put together a group of characters who are a team on the ice, a family off the ice. Game one didn't just show the grit and determination of the Pittsburgh players. It also showed a group of players that whether on the ice or not, they want the team to win.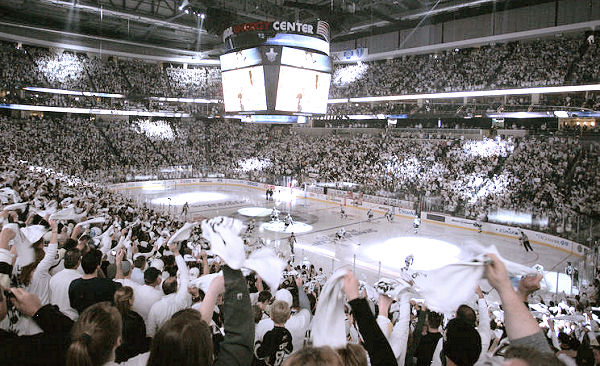 Sidney Crosby could have just sat and watched the game from a super box. Instead he had headphones on and was communicating what he saw with the bench. It would be hard to say that Evgeni Malkin and his family aren't into it when his mom and dad are sitting with the common folk cheering on the Penguins, knowing full well Evgeni won't be playing . How about backup goaltender Brent Johnson. You could tell by the smile on his face that he was truly happy for Mark Andre Fleury after the game.
The Penguins relentless forechecking has tired out the Tampa Bay defense and Tampa Bay coach Boucher is looking for answers outside the box. There is a good chance Tampa will dress seven defenseman tonight. Tampa will add either Randy Jones or Marc-Andre Bergeron to their lineup and go with 11 forwards instead of the normal 12.
Tonight's proposed lineup:
Kunitz-Staal-Kennedy
Neal-Letestu-Kovalev
Dupuis-Talbot-Conner
Rupp-Adams-Asham
If you followed the Pens since coach Bylsma's been here you have to know that barring injury Bylsma will always play the winning hand.
Keys to the Penguins winning tonight:
The Penguins exposed a weakness in Tampa Bay's old goaltender Dwayne Roloson. He just can't move side to side as fast as he used to. They must use this to their advantage.
Once again, Conditioning. The Pens must stop the initial Tampa rush. Tampa is second in the league in first period goals. At the same time Tampa is second in the league in goals against in the third period.
Tampa had 32 shots last game. Most of them were not quality shots. This was the exact scenario the Penguins were on the opposite side of last year with Montreal. This is why Ray Shero payed so much in the off season to upgrade the defense.
Jordan Staal needs to finish. Wednesday he had some great chances, he needs to put the biscuit in the basket.
Continue to stay out of the penalty box. Tampa's has a very powerful powerplay. The best way to stop there powerplay is to not let it start.
Tampa is 4-1 all-time in the second game of a series after losing the first game.
I realize and I've heard a million times that Sidney Crosby has not yet been cleared to skate with the team in contact drills. I also realize that there are a bunch of tests he needs to pass to be allowed to do that. What I want to know is:  Has he taken the test and failed or has he yet to take the test needed to be cleared? If he hasn't taken them, when are they scheduled. It's that simple.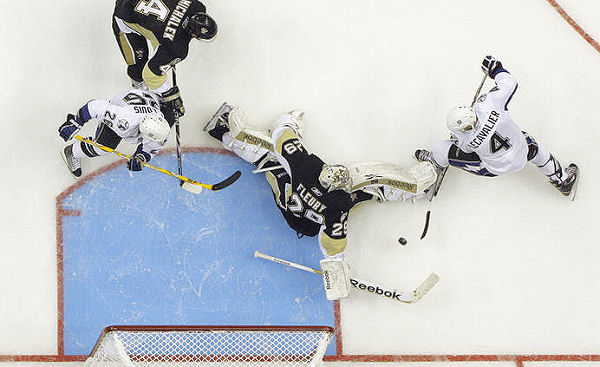 Bob Errey said something like: a great play by Lecavalier, an even better save by Fleury.
St. Louis had three broken teeth and had to have a root canal.  "He (Michalek) swung his stick and was a little careless with his stick, I was just happy it was not higher with the stick or he might have concussed me" Tampa Bay's Martin St. Louis said.  Was Michalek's stick that hit St. Louis in the face a high stick? Martin St. Louis's face was only a foot and a half off the ice and I thought Zbynek Michalek did a good job keeping his stick down even though he was spun around. I think St. Louis was just as careless with where his face was as Michalek was with his stick.
Michalek did high stick Steve Downie in the face later in the game. That should have been called.
A quick rant:  Why were there 500+ Pens fans wearing the light blue Penguins jerseys at the game.  Tampa's colors are blue and white.  The Penguins colors are black and gold.  The Penguins are asking for a white out to show support for the team.  If you can't afford the $14.99 whiteout t-shirts at Dicks, Target has 3 white t-shirts for $6.99. 
James Neal or Ryan Malone. Neal and Malone are two very similar forwards, a case could be made that Penguins GM Ray Shero had Ryan Malone or a Ryan Malone type player on the mind when he traded for Neal. The difference that I can see so far is that Malone tries to make stuff happen by instigating, which is why he had two penalties. Neal just goes to the net, takes the abuse and makes stuff happen. It has to be a little harder for Malone to do his job against his friends and former teammates.
WheelHouse87 Tweeted this: "Did you know? @WheelingNailers coach Stan Drulia was a #Pens draft pick? He scored the first goal in Tampa Bay Lightning history."   Drulia was drafted by the Pens back in 1986 214th overall.  He played his entire career with Tampa.  He now coaches the Pittsburgh/Montreal minor league affiliate Wheeling Nailers.
I've had three videos emailed to me yesterday:
First up it from the new Birds of the Burgh Blog. Say that three times fast.  A little something to get you ready for tonight's game.
Second up is the funny new Sidney Crosby video from our friends over at Benstonium.
Third up is a fan video made and sent in by Pensgirl22
Game time is at 7PM, they will be handing out Rally towels again.  The game can be seen in super high definition at the Consol Energy Center, regular HD on the Civic Arena parking lot or on ROOT Sports.  LETS GO PENS!
* The "Gameday Poop" is provided to give you enough information to sound intelligent while talking about hockey for 10 minutes. Anything after that and your on your own.