Sometimes, a story comes along that just writes itself and compels you to follow it.
I was sitting around Sunday afternoon thinking about what inconsistency in the NHL to rant about in my next "Bombs Away" when I saw this come across my Twitter feed: 
@MandisHeroes: We regret to inform everyone that Mandi Schwartz passed away at 10:35 am PST surrounded by her wonderful family, fiance and friends.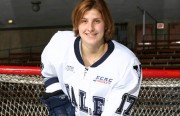 It's one of those things that you hate to see.  Someone so young, who had such an impact on so many, taken too soon.  It's one of those things that makes you think and makes a lot of trivial things in life seem irrelevant.
In case you haven't heard the story of Mandi Schwartz which has captivated much of the hockey world, I'll try to give you a brief synopsis.
Mandi was a forward for the Yale women's hockey team when she was originally diagnosed in December, 2008 with acute myeloid leukemia.  It took five rounds of chemotherapy, but her cancer had been in remission from May of 2009 until April of 2010.  It then became clear that Mandi needed a bone marrow transplant. 
Hockey players and friends organized registration drives and fundraisers.  Throughout the summer of 2010, the hockey world followed the ups and downs of her search for a bone marrow or stem cell match after being featured on Puck Daddy.  Thousands of people from Yale and around North America got tested and registered on national registries.  ESPN ran this feature: 
This went beyond seeing if they were matches for Mandi, to being inspired to try to help someone else like Mandi out there that might be searching for their match.  It also raised awareness about cord blood transplants and registrations.
The whole time, from every account, Mandi never question why it was her that was cursed with the illness, but rather why so many people wanted to help her.  David Whitley and other writers from AOL Fanhouse did a series following Mandi's battle.  They talked to her family, fiance, friends, teammates, coaches.  Everyone talked about Mandi's toughness and selflessness. 
A cord blood match was finally found and preparations made for a stem cell transplant on August 26th in Seattle, but another setback followed.  Mandi's cancer had returned and she had to once again beat it with high doses of chemotherapy.  After going into remission once again, a stem cell transplant took place on September 22nd.  But the road to recovery was long for Mandi as her compromised immune system fought off infections and her weak body struggled.  It took weeks to get the good news, the transplant had been successful.  The cancer was gone.
The thing that left such an impression on those that didn't know Mandi, like myself, was her positive attitude and determination.  It was like the hardest series of hockey games she would ever play.  But, she would take each game shift by shift until she won that game, and then move on to the next.  Defeat was not an option.  Some shifts it was hard to even skate from one line to the next and it might take all day, but she was going to do it.  And, slowly, she would take the lead in the series and make her comeback.
Just when it looked like things were going well, the news hit, Mandi's cancer came back in mid-December.  Mandi started treatments again.  Shortly after, in early January, Mandi's family released a statement that she had made the decision to stop treatment.
Mandi wasn't the only hockey player in the family.  Her brothers Jaden (Freshman) and Rylan (Sophomore) play for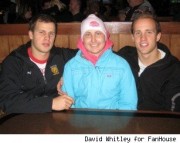 Colorado College.  Jaden was taken in the first round, 14th overall, of the 2010 NHL entry draft by the St. Louis Blues which took took her story to an even wider audience.
About two and a half weeks ago, I was following the Colorado vs. Boston College game online in the first round of the NCAA Hockey Tournament.  As Colorado trampled the favored BC 8-4, I knew that something else was going on.   Jaden finished the game with 2 goals and 2 assists, Rylan finished the game with 1 goal and 3 assists. 
The family was not there to cheer on the brothers as they were back in Sakskatchewan with Mandi.  But, it was clear that the brothers were playing that game for more than themselves or their team.  They were playing that game like they were possessed, they were playing for Mandi.
The announcement of Mandi's death and outpourings of sympathy have come from media outlets and bloggers all over North America, from the St. Louis Blues, from Hockey Canada, from current and former NHLers, from current and former teammates and opponents of Jaden and Rylan, from everyone in the Colorado College and Yale University communities. 
Mostly, it's people who never met or knew Mandi.  People who followed Mandi's story and were inspired by her bravery and grace in the face of death.  That one opponent who finally took advantage of her one weak shift in the final game and cheap-shotted her.  In doing so, we all got cheated out of a beautiful young woman with so much to give but whose memory will hopefully inspire many.
Lots of people are diagnosed and lose their battle to horrible diseases each and every day.  They inspire those around them.  Not many have the ability to touch as many lives as Mandi Schwartz did.  But, Mandi's story is also one of this community of which we are all a part…the hockey world.  It is just one more example of how everyone involved in this niche sport pull together when one of their own is in trouble and do whatever they can to help out.  It's one of those things that makes me proud to be a hockey fan.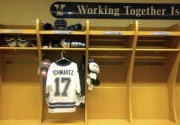 Thoughts and sympathies are with Mandi's family, fiance, friends, teammates, and loved ones.
NOTES: 
The Mandi Schwartz Marrow Donor Registry Drive at Yale will go on as planned on April 21st
Yesterday, sports agent Scott Norton had a program going on Twitter that raised several hundred dollars for the Leukemia and Lymphoma Society in Mandi's memory 
If you are on Twitter, starting yesterday, St. Louis Blues player Cam Janssen announced that he will also make a donation to the Leukemia and Lymphoma Society for every new follower he gets for a week in Mandi's memory, simply follow him @CamJanssen55