During the first meeting between the Penguins and the Senators in Pittsburgh three weeks ago, Sidney Crosby initiated a nasty skirmish with feisty Ottawa winger Nick Foligno. While the Pens shrugged off the incident as one of those things that occur during the heat of battle, the Sens were hardly in a forgiving mood.
"The rules are very clear now," Ottawa GM Bryan Murray said. "If you fall into a goaltender and touch a goaltender, an elbow to the head and a butt end to the head is fair game. (Penguins coach) Dan Bylsma said that's OK for them. I'm remiss. I made a mistake. We didn't have (Chris) Neil and (Matt) Carkner play in the game. We didn't have enough toughness, so when we play Pittsburgh that's something you can bring up to me again."
Backing up his pledge, Murray made sure Carkner and Neil were on hand for Friday night's rematch in Ottawa. The injury-depleted Pens—sans Super Sid and two-way stalwart Jordan Staal—countered by dressing heavyweight Steve MacIntyre and strapping Eric Tangradi.
The anticipated fireworks never took place—at least not from a physical standpoint. Instead Ottawa put on a pyrotechnics display of a different kind, exploding for five second-period goals en route to a resounding 6-4 victory.
Following a scoreless opening frame, the dam burst during the second 20 minutes. Ottawa's Colin Greening sparked the firestorm when he beat Pens goalie Brent Johnson just 25 seconds in. The black and gold knotted the score just over a minute later on a pretty goal by Steve Sullivan. However, Jason Spezza (four points on the night) and Daniel Alfredsson quickly countered to stake Ottawa to a 3-1 lead.
Displaying their customary grit, the Penguins struck for a pair of power-play goals to even the score again. Matt Niskanen gathered in a feed from Sullivan at the left point and blew the puck past Alex Auld at 11:07. Barely a minute later Evgeni Malkin beat Auld with a wrister from the left-wing circle for his 12th goal of the season.
Unfortunately, the Pens couldn't keep the amped-up Senators at bay. At 13:20 hulking Jared Cowen (who also collected four points) banked the puck in off Brooks Orpik's skate, giving the home team a lead they would never relinquish. Former Penguins farmhand Zenon Konopka deflected the rubber past a shaky Johnson six seconds before the buzzer to extend Ottawa's advantage to 5-3.
Spezza capped off a spectacular individual performance by beating Marc-Andre Fleury through the five-hole at 12:23 of the third period. Chris Kunitz provided the bruised and battered Penguins with a small measure of redemption when he bunted Simon Despres' fluttering shot past Auld with a minute to play.
"Typically, we're a lot better defensively than that," Penguins forward Craig Adams said afterward. "Whether it's defensive zone coverage or plays up the ice and getting caught on rushes and things like that, certainly our details away from the puck weren't very good."
Ice Chips
Sullivan paced the Pens with three points (a goal and two assists) … The power play converted on two of four chances … Kunitz and Malkin collected two points apiece … The Pens out-shot the Sens 36-24 … Paul Martin left in the third period following a collision with Chris Phillips … Johnson leaked for five goals on 10 shots in the second period … Robert Bortuzzo, Crosby, Dustin Jeffrey, Kris Letang, Ben Lovejoy, Zbynek Michalek, Richard Park, Jordan Staal, and Brian Strait were scratches.
On Deck
The Penguins (17-11-4) return to CONSOL Energy Center for a Saturday night contest with Buffalo (16-12-3). The skidding Pens (1-4 in their past five games) are currently tied with the Rangers for second place in the Atlantic Division. New York has three games in hand.
*Be sure to check out Rick's new book, "100 Things Penguins Fans Should Know and Do Before They Die" at TriumphBooks.com. It features 296 pages of bios, stories, anecdotes and photos from the team's colorful past in a compelling, easy-to-read style. Whether you're a die-hard booster from the days of Jean Pronovost or a big fan of Sid and Geno, this book is a must have for any true Penguins fan.
Don't forget to check out Rick's first book, "Total Penguins," at TriumphBooks.com. A complete and comprehensive book on the team's rich and storied history, it's filled with season-by-season summaries, player profiles and stats, bios on coaches, general managers and owners, photos from the "Post-Gazette" archives, and much, much more.
*Be sure to check out Rick Buker's books,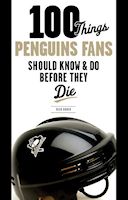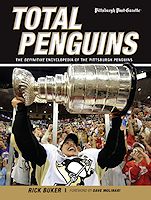 available at TriumphBooks.com, Amazon.com, and BarnesandNoble.com