Dustin Jeffrey didn't anticipate being an important cog in the Penguins' machine this season. Indeed, the 23-year-old center figured to spend the season at Wilkes-Barre/Scranton, honing his skills.
Little did the Pens realize Jeffrey's game was about to take a quantum leap forward. Following an impressive 71-point season for the Baby Pens in 2009-10, the Sarnia, Ontario native blossomed into the American Hockey League's top scorer. During a brief cameo in mid-December, Dustin notched a goal and an assist to pace the Pens to a 5-2 win over Buffalo.
When Sidney Crosby suffered a concussion in the Winter Classic, Pens GM Ray Shero dipped into the farm system for a replacement. Jeffrey was first in line for a promotion.
The 6'2", 191-pounder shuttled between the parent club and the Baby Pens through mid-January. However, with Evgeni Malkin missing time with a bothersome knee and sinus infection, Dustin was pressed into service.
He soon displayed a penchant for scoring big goals. On January 22, Jeffrey struck for the game-opening tally to pace the Pens to a 3-2 victory over Carolina. Three nights later he assisted on the lone Penguins goal in a 1-0 whitewash of the Islanders. During a 4-3 victory over the Rangers, Dustin scored to spark a black-and-gold rally before notching the shootout winner.
After Malkin was lost for the season, Jeffrey assumed a more prominent role. He continued his strong production, potting two huge goals–including the overtime winner–in a 3-2 victory over Boston.
On a team shorn of upper-echelon talent, Dustin stood out. In stark contrast to his lunch-pail teammates, he emerged as a skilled, heady player who possessed a creative flair. Adept at making crisp, short passes and working the give-and-go, he soon found himself centering the top line for James Neal and Alexei Kovalev.
Unfortunately, Jeffrey suffered a right knee injury last week in a collision with the Flyers' Jeff Carter. His loss was painfully evident as the Pens struggled to find the net against the Devils, Panthers and Flyers.
Perhaps Mark Letestu can step up to fill the void. And there's still hope that Sid will make a miraculous return to lead the team on a Cup run. But I liked the Pens' chances better with Jeffrey in the lineup.
*Be sure to check out Rick's book, "Total Penguins," at TriumphBooks.com. A complete and comprehensive book on the team's rich and colorful history, it's filled with season-by-season summaries, player profiles and stats, bios on coaches, general managers and owners, photos from the "Post-Gazette" archives, and much, much more. A must have for any true Penguins fan. 
*Be sure to check out Rick Buker's books,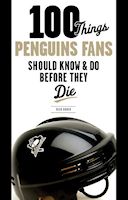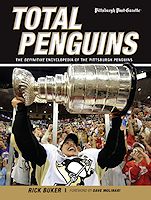 available at TriumphBooks.com, Amazon.com, and BarnesandNoble.com