As a kid growing up in suburban Pittsburgh I was an avid sports fan. My dad Jim Buker had played baseball and basketball at Oliver High School. He passed his love of sports on to his first son.
Not coincidentally, my favorite sports were baseball and basketball. During the summer I had a transistor radio glued to my ear, eagerly following the feats of Pirates sluggers like Willie Stargell and Roberto Clemente. In the fall dad and I would watch the NBA Game of the Week. Then we would go outside and play our own games with fantasy All-Star teams.
I don't think I was aware that Pittsburgh had a hockey team until the spring of 1967. I was a paperboy for the Pittsburgh Post-Gazette back then, and each morning before I set out on my route I'd scan the sports section for the latest news and scores. I began to take note of the Pittsburgh Hornets, who were in first place in the American Hockey League. Naturally I started to follow them on a daily basis.
Soon I had a favorite player. His name was Terry Gray. Since I never actually saw him play (games were rarely televised in those days) my adulation was based entirely on newspaper stories and photos. Sporting a crisp crew cut and a warm, friendly smile, Terry seemed like a good guy. I liked that he wore No. 7. And I loved the way sportswriters like Jimmy Jordan described him—invariably as "the speedy winger" or "the hustling Hornet." Plus, Gray scored lots of goals (25 to be exact). To me, he was the best player in the league.
The Hornets went on to win the Calder Cup that spring. My new hero played a big part. During Game 4 of the Finals, Gray scored a dramatic goal with 33 seconds left to tie the game. The Hornets beat Rochester in overtime and won the title. I beamed with pride as I read about Terry's exploits in the paper the next morning.
When I discovered Pittsburgh was getting a new team—the Penguins—and that they'd be playing in the National Hockey League the next year, I was really excited. I automatically assumed Gray would be part of the team. Some weeks later I was crestfallen to learn that the Penguins hadn't picked him. I couldn't understand why they didn't want such a great player.
Because of my disappointment and the fact that the Penguins weren't very good, I quickly grew disenchanted with hockey. It would be several years before I reconnected with the sport and became a lasting fan.
Recently I decided to look up Gray's statistics. As it turns out, he was an excellent minor-league pro who never quite made the grade as a full-time big leaguer. Over the course of his 147-game NHL career, the Montreal native totaled a modest 26 goals and 54 points.
Still, thanks to colorful newspaper accounts of a magical championship season, Terry had captured the imagination of an impressionable 10-year-old and introduced him to the world's most exciting sport.
*Be sure to check out Rick's new book, "100 Things Penguins Fans Should Know and Do Before They Die" at TriumphBooks.com. It features 296 pages of bios, stories, anecdotes and photos from the team's colorful past in a compelling, easy-to-read style. Whether you're a die-hard booster from the days of Jean Pronovost or a big fan of Sid and Geno, this book is a must have for any true Penguins fan.
Don't forget to check out Rick's first book, "Total Penguins," at TriumphBooks.com. A complete and comprehensive book on the team's rich and storied history, it's filled with season-by-season summaries, player profiles and stats, bios on coaches, general managers and owners, photos from the "Post-Gazette" archives, and much, much more.
*Be sure to check out Rick Buker's books,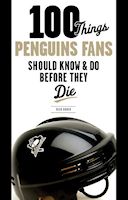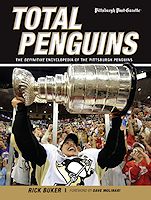 available at TriumphBooks.com, Amazon.com, and BarnesandNoble.com