On Saturday evening, December 17, Rick Buker will be signing copies of his latest book, 100 Things Penguins Fans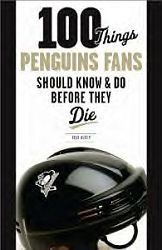 Should Know and Do Before They Die, at the Pennsbury Pub and Grille (located in Pennsbury Village) from 7 PM-9 PM. The "Molson Girls" will be there, too!
"100 Pens" is the perfect gift for that special Penguins fan in your life! Copies will be on sale at the book signing for $15.
In addition, Rick will be available to sign copies of "100 Pens" at Barnes and Noble (South Hills Village) on Sunday, December 18, from 11 AM-1 PM.
Don't miss a chance to meet Rick!