Beware all you unsuspecting NHL clubs. The banged-up Penguins are finally getting healthy. With 20-goal man Tyler Kennedy returning to action (and Sidney Crosby sure to follow), the Pens spotted Colorado a 3-1 lead before roaring back to dismantle the Avalanche, 6-3, at CONSOL Energy Center.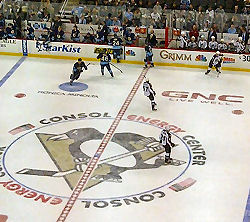 Paced by rising star Matt Duchene, the frisky Avs pounced on the slow-starting Pens. At 14:51 Jay McClement out-muscled a Pens defender down low and whipped a backhander past Marc-Andre Fleury. Colorado extended its lead to 2-0 with 2:36 left in the opening period, thanks to a highlight-reel goal by Duchene. Avs forward Paul Stastny knocked Kris Letang off the puck with a stiff check and whipped a pass to Duchene, who was cutting through the slot. With a Crosby-esque move, the gifted young center slipped the puck between his legs and beat Fleury with a sizzling backhander.
Moments later the Pens pared Colorado's lead in half on an equally pretty tally by Jordan Staal. The big center gathered in a short pass off the end boards from Kennedy and bulled his way out of the corner with a classic power move before wristing the puck home. But the Avs struck back on a buzzer-beater by David Jones to snatch a 3-1 lead.
For the Penguins and their faithful, it looked like it was going to be a rare off-night. Indeed, the home team mustered just 13 shots through 30 uninspired minutes of play. However, the complexion of the game began to turn with nine minutes left in the second period, when Pascal Dupuis poked his fourth goal of the season past Avs goalie Semyon Varlamov.
"We didn't come out with what we thought was our best game but I think we stuck with it and we kept playing," Pens coach Dan Bylsma said. "We turned the tide halfway through the game."
Reinforced by Arron Asham's stirring intermission speech, the revved-up Pens tore into the bewildered Avalanche with a vicious third-period barrage. At 1:12 Brooks Orpik knotted the score when his shot from the point hit hulking Ryan O'Byrne and glanced into the net. Three minutes later Evgeni Malkin beat Varlamov with a rocket from the slot to stake the Pens to a 4-3 lead.
While working on a power play with just under 13 minutes remaining Steve Sullivan skirted the Avs' defense and found James Neal at the right post with a beautiful no-look pass. Neal coolly kicked the rubber to his stick blade and banged the puck in for his 12th goal of the season. Letang put a pronounced exclamation point on the proceedings when he flew down the left side of the Colorado zone and torched Varlamov with a scorching backhander.
Ice Chips
Neal (a goal and two assists) earned the No. 1 star … Letang, Malkin, and Staal picked up two points apiece … The Pens out-shot Colorado 12-3 in the third period … Fleury has not allowed a power-play goal this season … Asham bloodied Avs tough guy Cody McLeod in a spirited first-period tilt … The Pens played before their 218th consecutive home sellout … Sidney Crosby, Ben Lovejoy, Zbynek Michalek, Brian Strait, and Eric Tangradi were scratches.
On Deck
The Penguins (11-4-3) will seek revenge for last spring's playoff ouster when they take on Tampa Bay (8-7-2) Thursday night. The Pens lead the all-time series (34-27-9).
*Be sure to check out Rick's new book, "100 Things Penguins Fans Should Know and Do Before They Die" at TriumphBooks.com. It features 296 pages of bios, stories, anecdotes and photos from the team's colorful past in a compelling, easy-to-read style. Whether you're a die-hard booster from the days of Jean Pronovost or a big fan of Sid and Geno, this book is a must have for any true Penguins fan.
Don't forget to check out Rick's first book, "Total Penguins," at TriumphBooks.com. A complete and comprehensive book on the team's rich and storied history, it's filled with season-by-season summaries, player profiles and stats, bios on coaches, general managers and owners, photos from the "Post-Gazette" archives, and much, much more.
*Be sure to check out Rick Buker's books,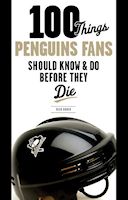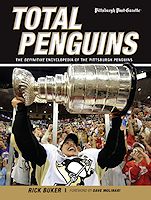 available at TriumphBooks.com, Amazon.com, and BarnesandNoble.com