I know it's probably considered heresy in these parts to criticize Penguins coach Dan Bylsma. After all, the guy won a Stanley Cup in his first season behind the bench. He's already won more playoff games than any other skipper in franchise history. A terrific motivator, he richly deserves the Jack Adams Trophy for keeping the team on course through an injury-plagued season. And the players love him.
But Bylsma has his warts, too. For one, he's too committed to his pedal-to-the-metal style. Although the Penguins are shorn of their most talented players, he stubbornly refuses to alter his approach, preferring to swap chances with a more skilled Tampa Bay team. While it's true the puck-possession game helped pave the way to the 2009 Cup, the Pens still remembered (and employed) the defensive lessons learned under the departed Michel Therrien.
Flash back to the opening round of the 1992 playoffs, when the Mario Lemieux-led Pens trailed Washington 3 games to 1. Arguably one of the most gifted offensive teams ever assembled, the black and gold nonetheless switched to a neutral-zone trap with coach Scotty Bowman's blessings—and went on to win the Cup.
"We can change gears," then-Pens defenseman Gordie Roberts noted at the time. "We can play any style. We do what we have to do to win hockey games."
It's hard to imagine someone saying that about a Bylsma-coached team.
Second, he's too enamored of speed. It's a failing that's led him to make some questionable personnel decisions over the past two seasons—decisions that attributed directly to Penguins losses.
In an effort to go with a more mobile defense in last year's playoffs, Bylsma benched steady shot-blocker Jay McKee in favor of Jordan Leopold. With McKee in the lineup the Penguins had gone 4-1, including a resounding Game 1 victory over Montreal. Without him, the Pens dropped four of six to the Canadiens to lose the series.
Bylsma's made the same mistake this year. Opting for speed over grit, he sat rugged Deryk Engelland in favor of puck-moving types Ben Lovejoy and Matt Niskanen. The Lightning forwards have crashed the Pens' net without fear of retribution.
In a similar move, the 40-year-old coach has dressed the swift but ineffective Chris Conner over Eric Tangradi. Penguins fans got a glimpse of what Conner can (and can't) do in Game 6. Meanwhile, Tangradi—who's been on the ice for the team's last two power-play goals—remains in cold storage.
History has proven it takes a blend of players and styles to win a championship. It's time for Bylsma to set aside his personal preferences and go with a lineup and a game plan that gives the team the best chance of winning. If and when he achieves that, he'll truly earn respect as a top-flight coach.
*Be sure to check out Rick's book, "Total Penguins," at TriumphBooks.com. A complete and comprehensive book on the team's rich and colorful history, it's filled with season-by-season summaries, player profiles and stats, bios on coaches, general managers and owners, photos from the "Post-Gazette" archives, and much, much more. A must have for any true Penguins fan. 
*Be sure to check out Rick Buker's books,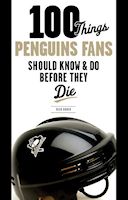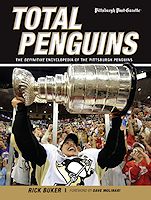 available at TriumphBooks.com, Amazon.com, and BarnesandNoble.com