Jason Williams scored his first goal as a Pittsburgh Penguin 2 minutes into the game blasting a shot from the blue line past Buffalo Sabres goaltender Ryan Miller tonight and the Penguins never looked back.  Four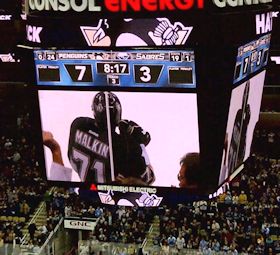 minutes later Pens Simon Despres scored his first ever NHL goal and a few minutes after that Evgeni Malkin scored his first of three goals on the night and boom Ryan Miller gets yanked from the game.
Buffalo's Thomas Vanek skated right down the slot in between four Penguins and snapped one past Fluery to close the game to 3 to 1 giving Buffalo a tiny bit of false hope that was taken away no less than 5 minutes later when Malkin tucked a backhander past Buffalo's goaltender of the moment Jhonas Enroth.  Giving the Pens a 4-1 lead at the end of the first.
The start of the second saw the Sabres Ryan Miller start his second stint in net which was going great for him for all of 53 seconds right up until James Neal netted his 18th goal of the season off a nifty pass from Malkin who faked a pass across the slot.  Pens defenseman James Engelland scored a goal at the end of the second putting the Pens up 6-1.  Engelland's goal made him the last of the Pens defenseman to register a point on a night that saw all six of them registering a point or more.
Ryan Miller was replaced in net by Jhonas Enroth once again at the beginning of the third and Buffalo mounted a short lived comback closing the gap to 6-3.  Evgeni Malkin erased the Sabres hopes closing out his hat trick on the power play and minutes later dished a short drop pass to Kunitz who closed out a 8 point night for the Pens and 5 Point night for Malkin.
Notes: Malkin's 5 point night shot him up to 5th in the NHL scoring race and gives him 12 points in the last five games.  Malkin is only 3 points behind the new NHL scoring leader Phil Kessel of the Toronto Maple Leafs.
Next up the NHL's number one team visits the Consol Energy Center Tuesday night at 7PM.