The Pittsburgh Penguins  powerplay ranks 23rd in the league.  The Nashville Predators are the only other team in the league that currently holds a playoff spot with a worse powerplay.  This has been a problem all season and is in no way a reflection of Sidney Crosby and Evgeni Malkin being out for the last two months.  The Powerplay was horrible while they were playing also.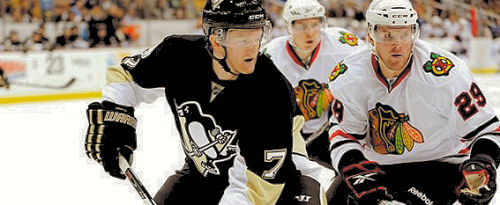 When Pittsburgh Penguins GM Ray Shero signed Paul Martin to a five year $25 million dollar deal on July 1st last year he went out of his way to point out that Martin in no way was being brought in to replace Gonchar's 50 to 60 points a season.  The Penguins had shown that they were having a bigger problem giving up goals than they were scoring goals and Martin, a defensive defenseman, was brought in to shore up some defensive holes.
If you could have told Ray Shero back then that the Penguins coaching staff would have Paul Martin,  a guy who has averaged five goals a season, manning the point along with Kris Letang on the first string powerplay.   Shero probably would have thought the coaching staff had unearthed an offensive talent that had lied dormant the entire time Martin played with the Devils.  Unfortunately this is not the case. 
For some reason the Penguins coaching staff has Paul Martin on the point on the first string powerplay. While Martin has proven to be worth every penny of the 5 million dollar a year contract he has signed, a point guy on the powerplay he is not.
Quick Facts:
Brooks Orpik is the only Penguin defenseman with a worse shooting percentage.
Paul Martin has not registered a powerplay point, goal or assist, in the last 17 games.
Martin has not scored a goal of any sort since December 4th, 2010.
Martin is tied for last on the team in defensmen even strength goals.  He's  tied with Niskanen who has only played 13 games
Alexei Kovalev was tried at the point and it failed miserably because he was unable to play defense.  Perhaps Zbynek Michalek who had nine goals one season in the NHL, three more than Martin's best season ever, deserves a chance or perhaps Ben Lovejoy who has the second highest points scored per minute of ice time on the Pittsburgh defensive roster deserves a chance.
Top 4 defenseman, amount of minutes of ice time to register 1 point:
Letang:          38.17   minutes average
Lovejoy:       44.14   minutes average
Martin:          72.78  minutes average
Michalek:     90.75 minutes average
When you take into consideration that Martin has seen 215 minutes (3rd highest among active Pens players) of powerplay time to Lovejoy's 2 minutes those numbers above look even worse for Martin. The Pittsburgh  powerplay has been one of the worst in the NHL all season and has shown no signs of changing.  Lovejoy has played 31 less games than Martin and they have the same amount of goals.   The team won't go far into the playoffs if the powerplay is not working.  So why exactly is it that you would not give Lovejoy a shot at point on the powerplay?