Fresh off a pair of disappointing losses to Boston and Philadelphia, the Penguins entered Saturday night's contest with the improving New York Islanders in desperate need of a win. A match-up with their favorite patsies proved to be just the right tonic. After spotting the Isles an early two-goal lead, the black and gold stormed back to snatch an impressive 6-3 victory in Uniondale.
Once again the injury-ravaged Pens were forced to make a series of game-day shuffles. With Robert Bortuzzo (concussion) and Jordan Staal (lower-body injury) joining Sidney Crosby on the club's burgeoning list of wounded, the Penguins recalled Jason Williams from Wilkes-Barre and shifted Pascal Dupuis to second-line center. Luckily, rugged Deryk Engelland returned after sitting out a pair of games to bolster the defense.
Noting that recent sluggish starts had cost them dearly, the Pens resolved to be ready for the opening draw. However, the Islanders quickly grabbed a 2-0 lead on goals by David Ullstrom and Milan Jurcina while piling up an early 6-0 advantage on the shot clock. For Pens coach Dan Bylsma, it was an all-too-familiar scenario.
"I was looking for a response from our team," he said. "Obviously we were in a hole."
The Penguins Express finally left the station at 14:28, thanks to a hustling play by Joe Vitale. After pouncing on a horrible giveaway by Islanders captain Mark Streit, the scrappy rookie set up Steve Sullivan for a one-timer to cut New York's lead to 2-1. James Neal buried a nifty feed off the end boards from Evgeni Malkin to knot the score 28.2 seconds before the buzzer.
Speedy Kyle Okposo beat Marc-Andre Fleury early in the second period with a sizzling shot over the goalie's outstretched glove to reclaim the lead for the home team. But the complexion of the game changed dramatically at 7:35 when Isles defenseman Travis Hamonic drew an elbowing major and game misconduct for cutting Brooks Orpik along the boards.
Although replays clearly revealed a blown call—Orpik was sliced by his own stick—the Penguins weren't about to refuse their sudden stroke of good fortune. Working on an extended 5-on-3 power play, Neal banged his second goal of the game (and 17th of the season) past Al Montoya to even the score at 3-3.
While Jack Capuano's crew cursed their fate the Pens pounced. At the 16-minute mark the ubiquitous Dupuis gathered in a short pass from Tyler Kennedy off the rush and blasted the game-winner in off the right post. It was the hustling forward's fifth goal in the past eight games.
The Penguins continued to pour it on while holding the sagging Islanders to four shots during the third period. Barely a minute into the final frame Matt Cooke swatted home a juicy rebound to extend the Pens' lead to 5-3. Paul Martin closed out the scoring at 10:10 when his sharp-angle shot hit Pittsburgh-native Dylan Reese and skipped by Montoya.
"I thought our team responded real well," Bylsma said afterward. "Our biggest challenge was rebounding from where we were the last couple of games."
Ice Chips
Neal (two goals) earned the No. 1 star … Malkin (a pair of assists) was named No. 2 star … Kennedy, Chris Kunitz, Matt Niskanen, and Sullivan picked up two points apiece … Fleury (24 saves) is 11-0-2 in his past 13 starts against the Islanders … Martin's goal was his first in 79 games … No. 7 has come on strong over the last 13 games (a goal, six assists and a plus-5) … Bortuzzo, Crosby, Dustin Jeffrey, Kris Letang, Ben Lovejoy, Zbynek Michalek, Richard Park, Staal, and Brian Strait were scratches.
On Deck
The Penguins (17-9-4) return to CONSOL Energy Center Tuesday night for a marquee match-up with their old Stanley Cup rival Detroit (18-9-1). The Pens lead the all-time series (61-60-17).
*Be sure to check out Rick's new book, "100 Things Penguins Fans Should Know and Do Before They Die" at TriumphBooks.com. It features 296 pages of bios, stories, anecdotes and photos from the team's colorful past in a compelling, easy-to-read style. Whether you're a die-hard booster from the days of Jean Pronovost or a big fan of Sid and Geno, this book is a must have for any true Penguins fan.
Don't forget to check out Rick's first book, "Total Penguins," at TriumphBooks.com. A complete and comprehensive book on the team's rich and storied history, it's filled with season-by-season summaries, player profiles and stats, bios on coaches, general managers and owners, photos from the "Post-Gazette" archives, and much, much more.
*Be sure to check out Rick Buker's books,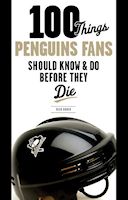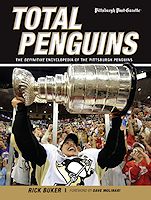 available at TriumphBooks.com, Amazon.com, and BarnesandNoble.com