Separated by only 300 miles of rolling Pennsylvania hills and grasslands, Pittsburgh and Philadelphia are worlds apart in terms of culture. Situated along the Delaware River, Philadelphia's origins are deeply rooted in the American Revolution. The "City of Brotherly of Love" boasts of iconic symbols of freedom like Independence Hall and the Liberty Bell. At the western end of the state, Pittsburgh forged a grittier reputation from iron and steel. In earlier times it was known as "the Smoky City" and "the Arsenal of Democracy."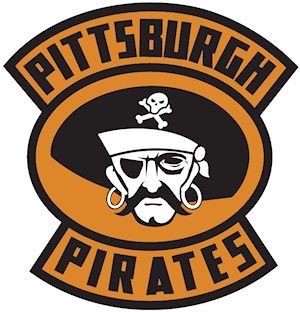 Accordingly, few rivalries have sparked such unbridled hatred as the Penguins and the Flyers. For Pens supporters, it's a clear-cut case of good versus evil: Syl Apps versus Bobby Clarke; Mario Lemieux versus Eric Lindros; Sidney Crosby versus Mike Richards.
Given the intense nature of the feud, it may come as a surprise to learn that the cities once shared an NHL team.
After winning the United States Amateur Hockey Association title two years in a row, the Pittsburgh Yellow Jackets changed their name to the Pirates and joined the National Hockey League in 1925-26.
Boasting future Hall-of-Famers such as Lionel "Big Train" Conacher and Roy "Shrimp" Worters, the Pirates made the Stanley Cup playoffs in two of their first three seasons. However, the new entry soon fell on hard times and spiraled to a pair of dismal finishes. During the Pirates' final season in the Steel City (1929-30), the club switched its colors from black and gold to orange and black.
With the onset of the Great Depression, owner Benny Leonard moved the team to Philadelphia for the 1930-31 season and renamed it the Quakers, while keeping the orange-and-black color scheme now worn by the Flyers. In 1931 the team suspended operations. Still officially known as the Pittsburgh-Philadelphia franchise, the club folded for keeps on May 7, 1936.
Over the next 30 years each city boasted minor-league hockey teams. The Pittsburgh Hornets played in the American Hockey League and won three Calder Cup championships. Philadelphia's primary minor-league club, the Ramblers, competed in the AHL for six seasons from 1936-1942 (the last season as the Falcons). A second AHL team, the Rockets, lasted for only three seasons (1946-1949). After the Rockets' demise, the Ramblers resurfaced and competed for a decade (1955-1964) in the Eastern Hockey League. Following the 1963-64 season they moved across the Delaware to Cherry Hill, New Jersey and changed their name to the Jersey Devils.
*Be sure to check out Rick Buker's books,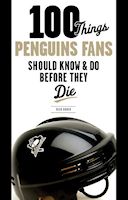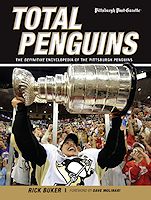 available at TriumphBooks.com, Amazon.com, and BarnesandNoble.com