The seeds for "the Battle of Pennsylvania" were sown perhaps as far back as the mid-1960s. Upon learning of the National Hockey League's ambitious plan to expand from six to 12 teams, Senator Jack McGregor and Peter Block lobbied hard to secure a franchise for the Steel City. Meanwhile, Philadelphia virtually was handed a team because it was deemed a desirable location by the NHL Board of Governors.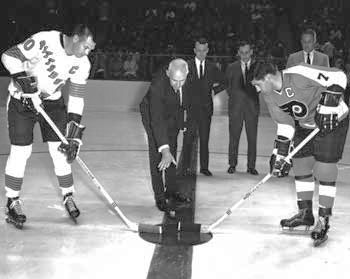 Beginning in 1967-68, the Penguins and Flyers joined the NHL and competed in the newly formed West Division, which was comprised of the six expansion teams. On October 19, 1967, the Flyers beat the Pens 1-0 at the Spectrum in the first-ever meeting between the clubs on a goal by Bill "Sudsy" Sutherland.
While the Flyers were more successful than the Pens during the early years, winning the division title in 1967-68 and making the playoffs three out of five seasons, neither team was a power. Accordingly, the series was fairly even, with the Penguins holding a slight edge (14-13-11) over their cross-state brethren.
There were a few noteworthy games—such as a rare scoreless tie at the Civic Arena on October 17, 1970. And there were a handful of instances when sparks flew. In 1968-69 Pittsburgh's Ken Schinkel and Philly's Forbes Kennedy engaged in a private war, dropping the mitts on two separate occasions. During the 1969-70 season opener Pens policeman Bryan "Bugsy" Watson tangled with Flyers tough guy Earl Heiskala. But the foundation for the future Pens-Flyers rivalry was poured—indirectly—on April 2, 1972.
Entering the final night of the 1971-72 season the Pens trailed the Flyers by two points in the race for the fourth and final playoff spot in the West Division. Coach Red Kelly's squad needed a win over St. Louis coupled with a Philly loss to make the playoffs.
While the Pens went out and bombed the Blues, 6-2, the Flyers appeared to be skating to a 2-2 tie with Buffalo. However, with four seconds left Ex-Flyer Gerry Meehan scored on a 60-foot slap shot. Suddenly, the Flyers were out of the playoffs and the Penguins were in.
*Be sure to check out Rick Buker's books,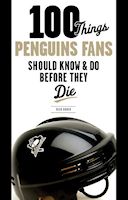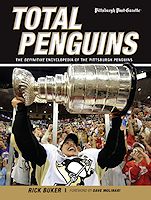 available at TriumphBooks.com, Amazon.com, and BarnesandNoble.com