The Pens-Flyers rivalry heated up during the early '70s, due in no small part to the emergence of "the Broad Street Bullies." Armed with bruisers like Dave "the Hammer" Schultz, Bob "Hound" Kelly, Andre "Moose" Dupont, and Don "Big Bird" Saleski, the Flyers beat up everyone in sight.
Pittsburgh was no exception. During a fight-filled contest at the Civic Arena on January 27, 1973, Philly stomped the home team 5-3. After mauling Pens defenseman Jean-Guy Lagace in a one-sided battle the boisterous Dupont chuckled, "Lagace should've gotten five minutes for receiving."
The Flyers weren't just mean—they were an outstanding hockey team. Philly captain Bobby Clarke emerged as one of the game's finest two-way players. Flashy Rick MacLeish scored 50 goals. Between the pipes, Bernie Parent established himself one of the game's all-time great puck-stoppers. Coached by Freddie "the Fog" Shero (Ray Shero's dad) the hungry, young Flyers won back-to-back Stanley Cups in 1974 and 1975.
The Penguins of the early to mid-1970s had some talent, too. They boasted "the Century Line" of Syl Apps, Jean Pronovost, and Lowell MacDonald, and All-Star Dave Burrows on defense. However, the Pens lacked muscle and were easy prey for the marauding Flyers.
In a direct response to Philly's terror tactics, general manager Jack Button acquired tough guys Steve Durbano and Bob "Battleship" Kelly from St. Louis in January of 1974. Three days later the Pens skated into the Spectrum and beat a surprisingly subdued Flyers squad 5-3. They would not win another game in Philadelphia for 15 years.
Predictably, the rivalry intensified in 1974-75. Paced by a six-assist performance by defenseman Ron Stackhouse, the Penguins thrashed the Flyers 8-2 at the Civic Arena on March 8. It was the only blemish on the Flyers' record over their final 21 games. However, Philly made up for the defeat by clobbering the Pens by scores of 6-0 and 4-0 at the Spectrum.
After Pittsburgh went into receivership during the summer of 1975, the disparity between the teams became more pronounced. The Penguins tried to keep pace by employing a host of ex-Flyers, including Tom Bladon, Orest Kindrachuk, Ross Lonsberry, and Schultz, to no avail. Indeed, the Pens posted a sorry 10-46-5 record against Philadelphia over a 12-year span.
"The Flyers, on the whole, have been so successful it's scary," play-by-play announcer Mike Lange said. "It wasn't because they were lucky. They were better than us all those years."
On the rare occasions when the black and gold gave a good account of themselves, they still were overshadowed by their cross-state rivals. During a contest at the Civic Arena on December 13, 1980, newly acquired center Paul Gardner scored four goals to stake the home team to a 5-2 lead. Typically, Penguin-killer Clarke notched a second-period hat trick to ignite a 6-5 Flyers comeback.
*Be sure to check out Rick's new book, "100 Things Penguins Fans Should Know and Do Before They Die" at TriumphBooks.com. It features 296 pages of bios, stories, anecdotes and photos from the team's colorful past in a compelling, easy-to-read style. Whether you're a die-hard booster from the days of Jean Pronovost or a big fan of Sid and Geno, this book is a must have for any true Penguins fan.
Don't forget to check out Rick's first book, "Total Penguins," at TriumphBooks.com. A complete and comprehensive book on the team's rich and storied history, it's filled with season-by-season summaries, player profiles and stats, bios on coaches, general managers and owners, photos from the "Post-Gazette" archives, and much, much more.
*Be sure to check out Rick Buker's books,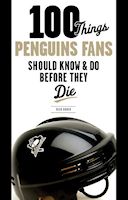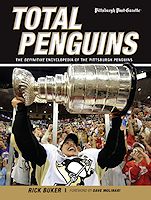 available at TriumphBooks.com, Amazon.com, and BarnesandNoble.com