Following a sorry sixth-place finish in 1991-92, the Flyers acquired the rights to phenom Eric Lindros from Quebec. Slowly but surely "the Next One" began to restore the Flyers to their former glory while centering the imposing "Legion of Doom" line for John LeClair and Mikael Renberg.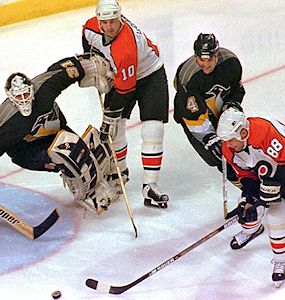 The Penguins were no patsies, either. Loaded with big-name stars like Mario Lemieux, Jaromir Jagr, and Ron Francis, the Steel City sextet remained on the short list of Stanley Cup contenders throughout the 1990s and early 2000s.
The cross-state rivals presented an intriguing contrast of styles. While the Pens embraced a more skilled approach, the Flyers returned to their body-banging roots. Philadelphia's hard-boiled fans took special delight in whistling at the mullet-topped Jagr in a faux wolf call.
Although each team enjoyed its share of success during regular-season matchups, the Flyers dominated during the postseason. In the 1997 Eastern Conference Quarterfinals, Philadelphia dumped the Pens in five games. During the traditional post-series handshake Lemieux—who retired following the series—symbolically passed the torch to Lindros.
"It's your time," Mario said. "Go out and win the Cup."
Backed by the sensational goaltending of Ron Tugnutt, a scrappy Penguins squad jumped to a 2-0 series lead against the Flyers in the spring of 2000. However, the Flyers turned the tide with a quintuple-overtime victory in Game 4 and ousted the Pens in six games. Following the series the bad blood that flowed for years gave way to mutual respect.
"That's a good hockey team over there," Flyers mainstay Eric Desjardins said. "[They have] a lot of great players."
However, the rivalry was not without incident. On March 7, 1998, the Pens' wrecking-ball defenseman, Darius Kasparaitis, crushed the mammoth Lindros with a devastating body check, ushering in the big center's bout with concussion woes. During Game 5 of the 2000 Eastern Conference Semifinals, the Flyers' Luke Richardson deliberately shot the puck at Bob Boughner. The rugged Pens defender returned the favor in the opening moments of Game 6 when he leveled Keith Primeau with a brutal check.
"I got laid out at center ice and got carried off on a stretcher," Primeau recalled.
He, too, would suffer career-ending concussion problems.
*Be sure to check out Rick Buker's books,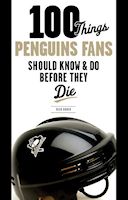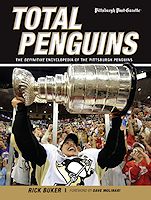 available at TriumphBooks.com, Amazon.com, and BarnesandNoble.com