For the third time during the course of the Pens-Flyers rivalry, the momentum shifted with the arrival of a superstar. Sidney Crosby would lead the Penguins to a third Stanley Cup—and become a lightning rod for Philadelphia fans' hatred and jealousy.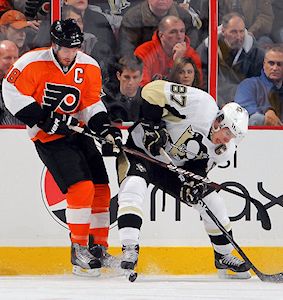 As if scripted, "Sid the Kid" received a rude welcome from the Flyers. On November 16, 2005, he absorbed a vicious high stick from Derian Hatcher, leaving the rookie with a bloody mouth and chipped front teeth. Displaying his considerable character, Crosby scored a big goal to spark a comeback win.
With new general manager Ray Shero at the helm the black and gold swept eight games with the rebuilding Flyers in 2006-07, drawing the ire of former Philadelphia GM Bobby Clarke.
"We didn't do what Pittsburgh did; lose seven years in a row so they could get good," Clarke sniped. "They did it twice, in fact. Now they're good and the teams that try to win all the time get penalized."
Suddenly, the venom returned with a vengeance. On December 11, 2007, the bitter foes engaged in a donnybrook at the Wachovia Center, the likes of which hadn't been seen in nearly a decade. Unlike previous battles, the Pens were more than equipped to stand up to the Flyers. After hammering Penguins heavyweight Georges Laraque along the boards with a flying elbow, Philly thug Ben Eager was pasted by 41-year-old Gary Roberts.
"Everyone knows there's (a rivalry) here," said Crosby, who was serenaded by catcalls throughout the afternoon. "But it seems like it's escalated each game."
Five months later the mortal enemies clashed in the 2008 Eastern Conference Finals. Philadelphia fans sang the praises of their talented young captain, Mike Richards, while lampooning Crosby with a sign that read, "Richy=heart; Cindy=crybaby." Paced by Sid's seven points, the Pens flattened Richards and the Flyers in five games.
The following season the cross-state rivals hooked up in the opening round of the playoffs. Out-dueling Richards once more, Crosby scored two huge goals during the pivotal Game 6 to seal a series victory for the Pens. While the Flyers hit the golf course, the black and gold rolled to their third Stanley Cup.
Philadelphia GM Paul Holmgren squirted a fresh coat of gasoline on the smoldering embers during the summer of 2011 when he inked former Penguins Jaromir Jagr and Max Talbot to free-agent deals. As if scripted, Jagr and Talbot each scored in their orange-and-black debuts at CONSOL Energy Center on December 29 to pace the Flyers to a big win. Philly went on to win five-straight games in the Pens' new home before tasting defeat.
Now the bitter adversaries prepare to square off for what promises to be an incendiary opening-round playoff series. It's safe to say that after 45 seasons of gut-wrenching goals and titanic tussles the Penguins-Flyers rivalry is alive and kicking.
*Be sure to check out Rick Buker's books,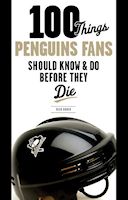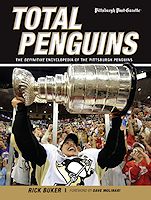 available at TriumphBooks.com, Amazon.com, and BarnesandNoble.com