When Penguins general manager Ray Shero inked Arron Asham to a free-agent deal last summer, he wasn't necessarily expecting big numbers. Indeed, the peppery winger had tallied just 82 goals over 10 NHL seasons. However, Shero was intrigued by Asham's toughness … not to mention a strong postseason performance with the Flyers the previous spring.
After enduring an injury-plagued season, the 33-year-old winger is once again finding his groove in the playoffs. Emerging as the Pens' secret weapon, the native of Portage La Prarie, Manitoba, has struck for a team-high three goals through four games. He and fellow muckers Craig Adams and Mike Rupp are a big reason why the Pens are up 3-games-to-1 on the Lightning.
Actually, the lunch-pail line's exemplary performance isn't entirely a surprise. The hardworking trio began to click when Asham returned to the lineup on March 21 after missing 21 games with a concussion. The unit heated up during the final five regular season games, tallying four goals (three by Rupp) and eight points.
Each member of the line brings a unique set of talents and intangibles to the mix. While not especially fast, Asham possesses a hard shot, good hockey sense and underrated passing skills. Adams skates well, is a superb penalty killer and defensive player, and takes the body with relish. Rupp's a rare breed—a heavyweight who contributes on the score sheet (22 goals over the past two seasons) while providing versatility and leadership.
They've been a major force in the playoffs thus far. In addition to Asham's strong showing (3 goals, 1 assist, plus-4), Adams (1 goal, plus-4) and Rupp (1 assist, plus-4) have been valuable performers as well.
"Our line's been good," Asham said. "We've been dominating out there, and I hope it continues. I just want to win the Cup so bad."
*Be sure to check out Rick's book, "Total Penguins," at TriumphBooks.com. A complete and comprehensive book on the team's rich and colorful history, it's filled with season-by-season summaries, player profiles and stats, bios on coaches, general managers and owners, photos from the "Post-Gazette" archives, and much, much more. A must have for any true Penguins fan. 
*Be sure to check out Rick Buker's books,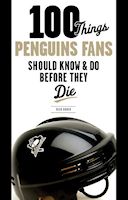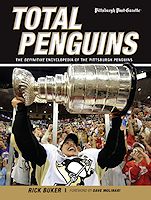 available at TriumphBooks.com, Amazon.com, and BarnesandNoble.com