Lost amid the turmoil of the Jaromir Jagr "my heart's in Pittsburgh but my wallet's in Philly" fiasco, Max Talbot signed a five-year deal with the Flyers on Friday.
I've always loved Talbot. The son of a construction worker, Max was a big-time scorer in junior hockey who had to adapt to a blue-collar role to make it in the NHL. Possessing underrated skills, an indomitable spirit, and a team-first attitude, few have made the transition better.
One of my first (and most lasting) memories of the gregarious little forward took place during his rookie season in 2005-06. Nashville's Darcy Hordichuk leveled Ziggy Palffy with a huge hit … one that effectively ended the Slovakian's NHL career. Without hesitation, Talbot flew in to challenge the Preds' enforcer. "Mad Max" fought Hordichuk again the next year following a similar check on Alain Nasreddine. While soundly beaten on both occasions, he put his enormous heart on his sleeve for all to see.
Indeed, Max never backed down from a challenge. Nor did he shrink from the spotlight, whether he was filming a TV commercial for A & L Motors with his Penguins pals or playing in the cauldron of the Stanley Cup Finals.
At his best in big games, Talbot always delivered in clutch situations. Who can forget his last-minute wraparound tally during the 2008 Finals to send Game 5 into overtime, or his two goals in the Cup-clinching Game 7 against the Red Wings the following year? On a franchise blessed with some of the biggest and brightest stars ever to lace on a pair of skates, his eight even-strength goals during the 2009 Cup run are the third-most by a Penguin for a single playoff year (tied with a big fellow who wore No. 66).
Although "Superstar" bled Penguins black and gold, it was a foregone conclusion the club wasn't going to re-sign him. Despite a bounce-back season in 2010-11, rumors swirled that coach Dan Bylsma had soured on the peppery forward. With Maxie clone Joe Vitale waiting in the wings at Wilkes Barre, the die was irretrievably cast.
I HATE the thought of Talbot wearing a Flyers jersey. It'll be even tougher to watch him get in the kitchen of ex-teammates Sidney Crosby and Marc-Andre Fleury.
Au revoir, Maxie. I'll miss you.
*Be sure to check out Rick's book, "Total Penguins," at TriumphBooks.com. A complete and comprehensive book on the team's rich and colorful history, it's filled with season-by-season summaries, player profiles and stats, bios on coaches, general managers and owners, photos from the "Post-Gazette" archives, and much, much more. A must have for any true Penguins fan. 
*Be sure to check out Rick Buker's books,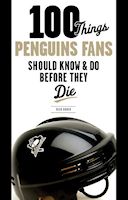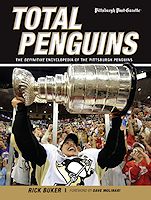 available at TriumphBooks.com, Amazon.com, and BarnesandNoble.com