When I first learned that the Penguins were entertaining the idea of bringing Jaromir Jagr back to the 'Burgh, I must confess to having mixed emotions.
On one hand, a Jagr return to the Steel City would have revved fan interest to a fever pitch, not to mention providing a happy ending to what was heretofore one of the saddest chapters in franchise history. And there's no question that adding No. 68 to a lineup featuring superstars Sidney Crosby and Evgeni Malkin would have spiced up the black-and-gold attack.
Maybe he's changed, I thought. Perhaps at 39 years of age he's finally matured to the point where he truly could sacrifice himself for the good of the team. However, the more pessimistic part of me kept waiting for the other shoe to drop. Sure enough, it did.
Handed a golden opportunity to mend fences and restore the luster to his tarnished legacy in Pittsburgh, the expatriate winger flaunted his true colors. Executing a 180-degree spin that would've done a figure skater proud, "Jags" spurned the Pens' offer in favor of a juicier deal with the archrival Flyers. Once a diva, always a diva.
In the city of "Brotherly Shove," I'm sure Philadelphia fans are dancing in the streets. While no longer the brilliant one-on-one demon of his halcyon days, Jagr still is undeniably a gifted and passionate performer, as he proved in the recent World Championships. No doubt the five-time NHL scoring champ will pot 25 goals or so this season while enhancing Philadelphia's already potent power play.
I hope for their sake the Flyers' express has plenty of room in the (excess) baggage compartment. They're gonna' need it. It'll be interesting to see if they're still as enamored of their prized pick-up when he goes … say … ten games without a goal and his attitude flies south faster than a robin at the onset of winter. Philly coach Peter Laviolette might be well advised to dust off his resume.
"Jaromir Jagr has got a reputation for being a coach-killer, and it's quite accurate," said Ron Wilson, who served as Jagr's bench boss in Washington. "I mean, I'm not going to mince words there. I think he's gone through a coach or two a year, and he made the job very difficult not only for me but for the guy [Bruce Cassidy] who came after me and the organization as a whole. When you end up with a player who's bigger than the team, you're going to be in serious trouble."
I say, good riddance.
*Be sure to check out Rick's book, "Total Penguins," at TriumphBooks.com. A complete and comprehensive book on the team's rich and colorful history, it's filled with season-by-season summaries, player profiles and stats, bios on coaches, general managers and owners, photos from the "Post-Gazette" archives, and much, much more. A must have for any true Penguins fan. 
*Be sure to check out Rick Buker's books,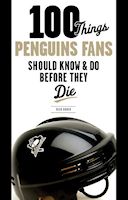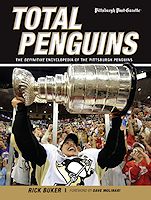 available at TriumphBooks.com, Amazon.com, and BarnesandNoble.com