Although Mike Rupp's departure didn't receive much fanfare, losing the big forward to the Rangers creates an even bigger hole in the Penguins' lineup.
In an era when classic "beat 'em in the alley" power forwards such as Gary Roberts and Rick Tocchet have gone the way of the dodo, Rupp is indeed a rare bird. Tough enough to tangle with opposing heavyweights, yet skilled enough to average 11 goals during his two seasons with the Pens, "Rupper" proved to be a versatile and valuable performer. Extremely popular with his teammates, the good-natured winger provided veteran leadership in the locker room as well.
According to insiders Rupp really wanted to remain a Penguin, but couldn't come to terms with Ray Shero. It's hard to fault the Pens' GM for not matching the Rangers three-year, $4.5 million offer. With James Neal, Chris Kunitz, Matt Cooke and up-and-comer Eric Tangradi manning the port side, it didn't make sense to overpay for Rupp.
Still, his loss leaves the black and gold vulnerable to teams that employ a body-banging style. Although the Pens' forwards are for the most part a gritty bunch that doesn't mind the rough going, they're also undersized—especially with the addition of pint-sized Steve Sullivan. While defenseman Deryk Engelland proved last season that he can handle even the toughest of opponents, there's no guarantee he'll be an everyday player.
With Sidney Crosby returning from his concussion and sure to be squarely in the oppositions' crosshairs, it's imperative that the Pens add a forward who can fill the role of protector. Rumor has it Shero is considering Brad Winchester, a former second-round pick of the Oilers who skated for St. Louis and Anaheim last season. Like Rupp, Winchester stands 6'5", plays center and left wing, and combines a scoring touch (10 goals in 2010-11) with toughness (10 fights). The big forward earned $700,000 last year—which is more in the Pens' price range.
Regardless of who Shero signs, he'll be hard-pressed to fill Rupper's sizeable skates.
*Be sure to check out Rick's book, "Total Penguins," at TriumphBooks.com. A complete and comprehensive book on the team's rich and colorful history, it's filled with season-by-season summaries, player profiles and stats, bios on coaches, general managers and owners, photos from the "Post-Gazette" archives, and much, much more. A must have for any true Penguins fan. 
*Be sure to check out Rick Buker's books,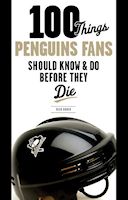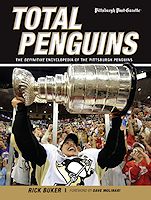 available at TriumphBooks.com, Amazon.com, and BarnesandNoble.com