In certain parts of Canada the good citizens bid you a Joyeux Noel rather than a Merry Christmas. So it seemed altogether appropriate that the Penguins ushered in the holidays with an impressive 4-1 victory over Claude Noel's Winnipeg Jets on Friday night.
The last time the Penguins visited the 'Peg, they were guilty of taking their hosts too lightly. Not this time. Certainly not with the improving young Jets boasting an impressive 11-4-2 record over their last 17 games, to say nothing of a sparkling 12-5 mark at cozy MTS Centre.
Determined to give a better account of themselves, the Penguins controlled the action during the opening stanza. Marc-Andre Fleury set the tone with a dazzling glove save on hulking Nik Antropov. Following a spirited tussle between Manitoba native Arron Asham and Jets scrapper Tanner Glass, the Pens snatched the lead at 13:59. Alexandre Picard gathered in a loose puck off a draw and fired the puck on net. The rubber bounced off Winnipeg goalie Ondrej Pavelec to Joe Vitale, who swatted it home with a spinning, corkscrew maneuver.
The Pens continued to dominate play until the nine-minute mark of the second period, when Winnipeg cashed in courtesy of a rough shift by Zbynek Michalek. Playing his first game in nearly a month, "Zibby" plunked an outlet pass off of Jordan Staal, lost a puck battle behind the net, and got a stick entangled in his skate to allow Alex Burmistrov an easy back-door goal.
On cue, the momentum began to swing in favor of the Jets. But Fleury (18 saves) held his ground, stopping ex-Pen Chris Thorburn and Tobias Enstrom on a pair of rapid-fire chances to blunt the Jets' sudden surge.
The Penguins regained the lead on the opening shift of the final period, thanks to a terrific effort by Chris Kunitz. After blasting a hard shot off Pavelec, "Kuny" hustled to the sideboards to retrieve the rebound. The gritty winger slipped the puck through a defender to Evgeni Malkin, who dove headlong to feed James Neal in the slot. Number 18 dusted off the puck with a slick backhand to forehand move and whipped it past Pavelec for his 20th goal of the season.
"Geno made a great pass," said Neal, who extended his points streak to seven games.
Winnipeg quickly unraveled. With Dustin Byfuglien serving a goaltender interference penalty, Kunitz set up Staal at 4:14 for his first goal in eight games. Forty seconds later Tyler Kennedy sprang Pascal Dupuis with a long lead pass up the boards. "Duper" burst into the Winnipeg zone and beat Pavelec with a crackling shot inside the far post to stake the Pens to a 4-1 lead.
The black and gold's sudden outburst sucked the life out of the Jets. Indeed, the only drama occurred midway through the period when Malkin took a knee to the head behind the Penguins' net. The big Russian slowly rose to his feet and skated to the bench in obvious discomfort. After being attended to by trainer Chris Stewart, Geno returned to the ice a few moments later.
Ice Chips
Kunitz (two assists and a game-high seven shots) earned the No. 1 star … Malkin (an assist and a plus-2) extended his points streak to seven games … Neal (a goal) was named No. 2 star … Steve Sullivan recorded his 700th career point … The Pens out-shot the Jets 39-19 … Deryk Engelland sat out the first game of his three-game suspension … Brian Strait was recalled from Wilkes-Barre … Robert Bortuzzo, Sidney Crosby, Engelland, Dustin Jeffrey, Kris Letang, Steve MacIntyre, Paul Martin, Richard Park, and Strait were scratches.
On Deck
The Penguins (20-11-4) return to the friendly confines of CONSOL Energy Center to face struggling Carolina (11-19-6) on Tuesday night. The Pens and 'Canes split their first two meetings of the season.
*Be sure to check out Rick's new book, "100 Things Penguins Fans Should Know and Do Before They Die" at TriumphBooks.com. It features 296 pages of bios, stories, anecdotes and photos from the team's colorful past in a compelling, easy-to-read style. Whether you're a die-hard booster from the days of Jean Pronovost or a big fan of Sid and Geno, this book is a must have for any true Penguins fan.
Don't forget to check out Rick's first book, "Total Penguins," at TriumphBooks.com. A complete and comprehensive book on the team's rich and storied history, it's filled with season-by-season summaries, player profiles and stats, bios on coaches, general managers and owners, photos from the "Post-Gazette" archives, and much, much more.
*Be sure to check out Rick Buker's books,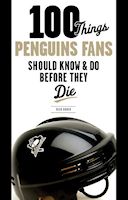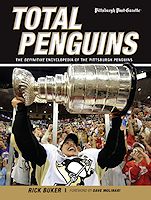 available at TriumphBooks.com, Amazon.com, and BarnesandNoble.com