It's somewhat ironic that former Penguin Colin Campbell earned lasting fame while serving as the NHL's czar of discipline. After all, the rugged little defenseman was no stranger to the penalty box. Over the course of a 636-game NHL career that spanned 11 seasons he piled up 1,292 penalty minutes.
Described in an early scouting report as "squarely built, helmeted, and mean," Campbell was taken 27th overall by the Penguins in the 1973 Amateur Draft following a solid junior career with Peterborough. Opting to sign with Vancouver of the World Hockey Association instead, "Soupy" racked up 191 minutes in the sin bin for the Blazers in 1973-74.
Anxious to reinforce his improving young team, Pens GM Jack Button convinced Campbell to jump ship in the summer of 1974. After serving a 15-game apprenticeship with Hershey, the 21-year-old defender earned a call-up to the Penguins.
Teamed with veteran Barry Wilkins, Campbell enjoyed an excellent rookie season. He tallied 19 points in 59 games and finished second to his partner with a sparkling plus/minus rating of plus-28. True to form, the London, Ontario native paced the club with 172 penalty minutes while dropping the mitts a team-high nine times.
Although just 5'9" and 190 pounds, Campbell was utterly fearless. He often tangled with much larger foes such as Islanders behemoth Clark Gillies, employing wrestling tactics to gain an advantage. During a February 1 tilt with archrival St. Louis he twice took on Floyd Thomson, despite playing with a broken hand.
The youngster possessed some skill, too. During the 1975 playoffs Campbell streaked in on a breakaway and beat Blues goalie Eddie Johnston for the series-winning goal.
Following his fine rookie season Soupy's play took a dip in 1975-76. Hampered by an elbow injury that required surgery, he slipped to a team worst minus-4. That summer he was loaned to the woeful Colorado Rockies as part of the compensation package for Denis Herron. Although he returned to the Steel City for the 1977-78 season, he failed to earn the trust of coach Johnny Wilson and often was a healthy scratch.
Campbell was granted a reprieve in 1978-79. Working his way back into the mix, he re-emerged as one of the Pens' most reliable defensemen. Soupy played particularly well down the homestretch while registering a career-high 20 points and a plus-14—the second-best mark on the team. During the playoffs the little fireplug once more displayed his considerable courage when he pounded Bruins bruiser John Wensink.
Despite his bounce-back season, the Pens' brass exposed Campbell in the 1979 Expansion Draft. He promptly was claimed by Edmonton. Serving as a protector for budding superstar Wayne Gretzky, the hard-nosed defender racked up a then-club record 196 penalty minutes with the Oilers. After moving on to Vancouver the following season, he helped the Canucks reach the Stanley Cup Finals in 1982.
Campbell played three more seasons with Detroit before hanging up his skates in 1985. After serving as an assistant for the Red Wings and Rangers, he coached the Blueshirts for three-plus seasons in the mid-90s. Shortly after his dismissal he was appointed to the post of Senior Vice President and Director of Hockey Operations for the NHL.
*Be sure to check out Rick's new book, "100 Things Penguins Fans Should Know and Do Before They Die" at TriumphBooks.com. It features 296 pages of bios, stories, anecdotes and photos from the team's colorful past in a compelling, easy-to-read style. Whether you're a die-hard booster from the days of Jean Pronovost or a big fan of Sid and Geno, this book is a must have for any true Penguins fan.
Don't forget to check out Rick's first book, "Total Penguins," at TriumphBooks.com. A complete and comprehensive book on the team's rich and storied history, it's filled with season-by-season summaries, player profiles and stats, bios on coaches, general managers and owners, photos from the "Post-Gazette" archives, and much, much more.
*Be sure to check out Rick Buker's books,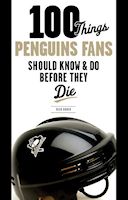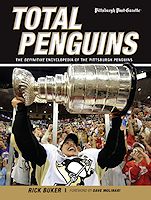 available at TriumphBooks.com, Amazon.com, and BarnesandNoble.com