During the summer of 1977, popular enforcer Bob "Battleship" Kelly signed a free-agent deal with Chicago, leaving the Penguins without a protector. Although general manager Baz Bastien imported rugged players Colin Campbell, Bob Paradise, and Brian Spencer to help with the policing chores, the Pens quickly fell prey to imposing clubs like Boston and Philadelphia.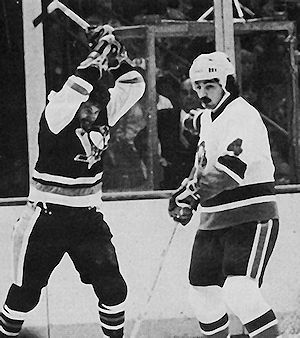 Dismayed by his team's poor showing, owner Al Savill sought out the advice of former Bruins bad boy Derek Sanderson at a party.
"You have no real big, tough guy," Sanderson offered. "You should get Dave Schultz."
Indeed, Schultz had impacted the sport like few players before or since. The prototypical "Broad Street Bully," he piled up an astronomical 1,618 penalty minutes over five seasons—including a league-record 472 in 1974-75—while emerging as the dean of NHL enforcers. Handsome, charismatic and utterly unrepentant, his name became synonymous with hockey violence.
His fighting style was simple and brutally effective. "The Hammer" would grab an opponent's jersey with his left hand and fire away with rights. Displaying an almost manic determination, he kept on swinging until he pummeled his foe into submission.
"I really wasn't as powerful as people believed and I sure as hell wasn't an artistic boxer," he explained to Stan Fischler in his biography, The Hammer: Confessions of a Hockey Enforcer. "So the hook-on-the-jersey method gave me an advantage."
Upon his arrival in the Steel City, Schultz embraced his role with guts and tenacity. On November 2, 1977, he stood up for the team by decking rugged Reed Larson during a brawl-filled encounter with Detroit. Months later he hopped over the boards and clobbered St. Louis pest Gary Holt, who was roughing up some of his less combative teammates. Over the course of the season the rugged left wing dropped the mitts a whopping 21 times and racked up 405 penalty minutes to reclaim the league's penalty crown.
Possessing an underrated scoring touch, Schultz produced in other ways as well. In January he shrugged off the persistent challenges of boisterous Nick Fotiu and scored a goal to pace the Pens to a 5-3 victory over the Rangers. "Schultz contributed mightily to the win without throwing a punch," chimed the Pittsburgh Press. He tallied nine goals and 36 points—decent numbers for a policeman—to earn the team's Unsung Hero Award.
Encouraged by the acquisitions of former Philly teammates Tom Bladon, Orest Kindrachuk and Ross Lonsberry, Schultz was primed for a strong season in 1978-79. However, the Hammer soon became excess baggage on an improving team. Later in the campaign he was traded to Buffalo for speedy winger Gary "Wheels" McAdam, but not before a final burst of belligerence.
On the night of November 25, 1978, he took on his former partner in crime Andre "Moose" Dupont and Philadelphia's new enforcer Behn Wilson in a rough-and-tumble game against the Flyers at the Civic Arena. It was a sendoff befitting the old gunslinger.
*Be sure to check out Rick Buker's books,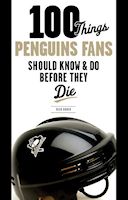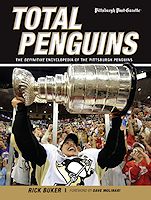 available at TriumphBooks.com, Amazon.com, and BarnesandNoble.com