As a young hockey fan, I'll never forget the day in January of 1974 that the Penguins acquired tough guys Steve Durbano and Bob "Battleship" Kelly from St. Louis. At the time of the trade the Pens were languishing in next-to-last place. Worse yet, they were a woefully timid team—the 98-pound weaklings of the NHL.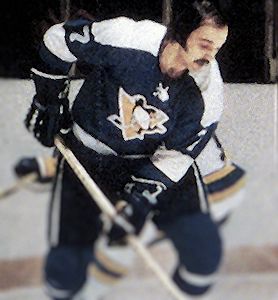 That all changed with the arrival of Durbano and Kelly. In his first game as a Penguin, "Durby" scored a goal and broke Dave Dunn's nose with a roundhouse right. A few nights later he took on Bob Gassoff during a big, post-trade grudge match with the Blues.
With all due respect to Kelly, Durbano instantly became my favorite player. He was the knight in shining armor—albeit a black knight—who had ridden into town on his charger and restored the Penguins to respectability.
Not only was Durby tough as nails, but he showed genuine promise. Possessing a heavy shot and underrated skills, he tallied 18 points (in only 33 games), was a plus-17 and piled up 138 penalty minutes in his first half-season in the Steel City.
I got a chance to meet Durbano face to face during the summer of 1974, when he was part of a group of players that visited South Hills Village in suburban Pittsburgh to help drum up ticket sales. I was in awe. There sat my hero, no more than five feet away. I was too shy to speak. But as other fans gathered around the table, one piped up, "What do you think of (Flyers tough guy) Dave Schultz?"
"Not much," Durbano replied, his dark eyes flashing. For an impressionable 17-year-old fan this was heady stuff.
I couldn't wait for the start of the 1974-75 season. Little did I realize that Durbano was about to suffer an injury that would permanently derail his career. On October 19, 1974, Durby hurt himself while trying to avoid a hip check by the Flyers' Andre Dupont. Although it wasn't clear at the time how badly he was injured, the rugged defenseman would miss the rest of the season. It was later revealed that a bone from his arm was driven into his left hand.
When the 1975-76 campaign opened it was obvious Durbano wasn't the same player. Frustrated by his inability to perform up to his previous level, the 24 year old became a distraction in the locker room. On January 9, 1976, the Pens unceremoniously shipped him to the lowly Kansas City Scouts. I was crestfallen.
For Durbano, it was the beginning of an inexorable, downhill slide that would sadly end in his premature death in 2002. But I prefer to remember him for those few short months in 1974 when his future—and that of the Penguins—seemed as boundless as the summer sky.
*Be sure to check out Rick Buker's books,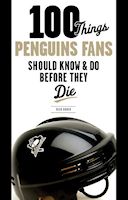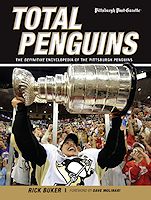 available at TriumphBooks.com, Amazon.com, and BarnesandNoble.com