Following nine seasons in his native Sweden, Kjell Samuelsson ventured across the pond to join the New York Rangers in 1985-86. Standing 6'6" and weighing 235 pounds, the 27-year-old defenseman was considered an oddity—a foreign-born player of immense proportions.
After seeing limited duty for the Blueshirts, Samuelsson was dealt to Philadelphia in December of 1986 for Bob Froese. It proved to be a great trade for the Flyers. Kjell gradually emerged as a solid NHL defenseman during his five-plus seasons in Philly. Displaying a surprising flair for offensive, he tallied 30 points in 1987-88 and earned a spot on the Wales Conference All-Star Team.
Despite his imposing stature, Samuelsson was regarded as a soft touch early in his career. That perception changed—dramatically—during a contest with the Penguins on December 8, 1988. When Pens tough guy Steve Dykstra decided to test the hulking Swede, Samuelsson knocked Dykstra to the ice and pummeled the prone black-and-gold defender.
Seeking to add size and a stay-at-home presence to his defense, Pittsburgh GM Craig Patrick acquired "Sammy" from the Flyers on February 19, 1992 along with Rick Tocchet and Ken Wregget in a huge three-team swap.
One thing was certain—Samuelsson wasn't going to remind Steel City fans of the departed Paul Coffey. Due to his enormous bulk, he was at best a ponderous skater.
"He turned in a loose circle that brought to mind a rusty-but-dependable Volvo negotiating an icy curve," noted Les Bowen of the Philadelphia Daily News.
Nonetheless, Samuelsson was a highly effective defenseman thanks to his size, smarts and Pterodactyl-like wingspan. A product of the pre-obstruction era, the omnipresent rearguard raised clutching and grabbing to an art form.
"He was very hard to play against," said NHL forward Peter Inhacek. "Kjell was like an octopus out there. He was all over you in front of the net and in the corners.
"He had good hockey sense and could body check. Against some defensemen you could go one-on-one and fake like you're going to go to the left but you turn to the right. Samuelsson could never be fooled. He stayed right with you."
Although hampered by a jammed wrist, Kjell was a steadying influence during the Pens' march to their second Cup. The big defender enjoyed one of finest years in 1992-93, registering an impressive plus/minus rating of plus-25. Firmly entrenched as one of the team's "Big Three" on the blue line (with Larry Murphy and countryman Ulf Samuelsson), he followed up with another strong season in 1993-94 (118 penalty minutes, plus-18).
As part of a youth movement, the Pens released Samuelsson after the lockout shortened 1994-95 campaign. The 36-year-old promptly re-signed with Philadelphia and plied his trade for three more seasons with the Flyers before finishing his career with Tampa Bay in 1998-99.
*Be sure to check out Rick Buker's books,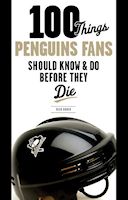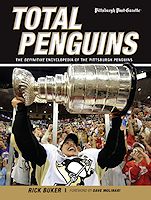 available at TriumphBooks.com, Amazon.com, and BarnesandNoble.com