Through the first 17 games of the season Paul Martin has, quite literally, served as the Penguins' defensive anchor. He's registered a team-worst plus/minus rating of minus-11—and it's sinking fast. On a club packed with overachievers Martin sticks out like a sore thumb, for all the wrong reasons.
This could hardly be what Pens general manager Ray Shero envisioned when he inked Martin to a lucrative free-agent deal during the summer of 2010. Indeed, when the smooth-skating defenseman arrived in the 'Burgh, many regarded him as a poor man's version of another former Devil, Scott Niedermayer.
Thus far, the Pens have gotten a pale imitation. After a fine start in 2010-11 (seven points in his first seven games), the Minneapolis native's output has been positively pedestrian (two goals and 20 points) over his last 87 games.
Worse yet, the normally reliable rearguard's been prone to coughing up the puck of late, along with some poor decision-making. During a 5-3 loss to Carolina on Saturday he was caught up ice on the final two Hurricanes goals as a result of ill-timed pinches.
Martin's struggles in the Steel City are puzzling. There's no denying the 30 year old has the tools to be a top-notch defender. A fluid, nimble skater, Martin possesses tremendous closing speed, which enables him to cut off opposing puck carriers with relative ease. Smart and heady, he generally makes intelligent reads and handles the puck well. While hardly a bruiser, the 6'1", 200-pounder takes the body effectively when the situation calls for it. The only thing missing from his arsenal is a howitzer of a shot. However, there are far too many nights when No. 7 doesn't measure up to the sum of his abilities.
Maybe it's a confidence issue. Or perhaps he misses his regular partner, Zbynek Michalek, who's been out since October 22 with a broken finger.
Although it's counterintuitive given his skill set, it's possible the likeable redhead is more comfortable playing within the confines of a structured system like New Jersey's.  Coach Dan Bylsma's full-steam-ahead approach—while highly effective—places extra demands on the defense. This might explain, in part, why Martin appears to be out of sync at times.
Whatever the reasons, the Pens need Martin to start earning his keep. Given the black-and-gold's organizational depth on defense, if he doesn't find his game—and soon—look for Shero to dangle him at the trade deadline.
*Be sure to check out Rick's new book, "100 Things Penguins Fans Should Know and Do Before They Die" at TriumphBooks.com. It features 296 pages of bios, stories, anecdotes and photos from the team's colorful past in a compelling, easy-to-read style. Whether you're a die-hard booster from the days of Jean Pronovost or a big fan of Sid and Geno, this book is a must have for any true Penguins fan.
Don't forget to check out Rick's first book, "Total Penguins," at TriumphBooks.com. A complete and comprehensive book on the team's rich and storied history, it's filled with season-by-season summaries, player profiles and stats, bios on coaches, general managers and owners, photos from the "Post-Gazette" archives, and much, much more.
*Be sure to check out Rick Buker's books,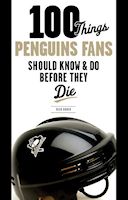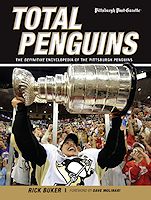 available at TriumphBooks.com, Amazon.com, and BarnesandNoble.com