As season openers go, it wasn't the prettiest of wins. Indeed, the Penguins blew a pair of two-goal leads while looking scrambled at times in their own zone. In the end, two special-teams goals by Matt Cooke and clutch goaltending by Marc-Andre Fleury—not to mention a pair of scintillating shootout tallies by Kris Letang and Evgeni Malkin—were enough to overcome the Vancouver Canucks.
The Pens opened the 2011-12 season in style. James Neal doubled his career goal total for the black and gold at 5:04 of the opening frame when he banked a sharp-angle shot off Canucks goalie Roberto Luongo for a power-play tally. Seven minutes later the Peskies made it two-for-two with the man advantage as Cooke converted a beautiful backhand feed off the end boards by Pascal Dupuis into a 2-0 lead.
It looked as though the Penguins might have an easy night in British Columbia. But ex-Montreal nemesis Maxim Lapierre fooled Fleury with a long shot from the right-wing corner at 16:20 to breathe life into the home team.
Fleury quickly made amends in the opening minute of the second period with a brilliant save on streaking Alexandre Burrows. When Malkin was whistled off for elbowing moments later, the Canucks appeared poised to snatch the momentum. But Cooke—playing his first game since March 20—drove a dagger into his former teammates' hearts with a nifty shorthanded goal from inside the right face-off circle.
The Pens proceeded to turn up the heat, courtesy of a great shift by the energy line of Joe Vitale, Craig Adams, and Arron Asham. However, Canucks defender Keith Ballard scored a pretty goal from the doorstep late in the period to change the complexion of the game.
Revitalized, the Canucks dominated play in the final frame, racking up a 15-6 edge in shots. Working on a delayed penalty, Daniel Sedin found a soft spot in the Pens' defense and lasered a wrist shot past Fleury at 7:51 to knot the score at 3-3.
Vancouver continued to pour it on during the remainder of regulation play and through overtime. In particular, the Sedin line bedeviled the Pens, breaking free for a number of great scoring chances. Flashing his All-Star form, Fleury stopped Henrik Sedin and Cody Hodgson to cap off a 33-save performance.
"Flower really won the game for us," Pens defenseman Zbynek Michalek said. "We were in trouble."
The shootout proved to be anticlimactic. While No. 29 stoned Mikael Samuelsson and Burrows, his sharp-shooting teammates quickly exploited Luongo. Letang made a series of dazzling forehand to backhand moves before depositing the puck behind the overmatched goalie. Malkin sealed the victory by coolly roofing his eighth career shootout goal over a sprawling Luongo.
"It's definitely a nice way to start the season," Dupuis said.
Ice Chips
The Penguins converted on two of three power plays for a 66.7 percent conversion rate … Vancouver controlled the face-off circle, winning 32 of 59 draws … James Neal paced the Pens with a game-high five hits … The Pens are 19-19-6 all-time in season openers … Steve MacIntyre, Brooks Orpik, and Richard Park were healthy scratches.
On Deck
The Penguins continue their western road trip Saturday night when they travel to Calgary to take on the Flames. The Pens lead the all-time series with the Flames, 39-38-18.
*Be sure to check out Rick's new book, "100 Things Penguins Fans Should Know and Do Before They Die" at TriumphBooks.com. It features 296 pages of bios, stories, anecdotes and photos from the team's colorful past in a compelling, easy-to-read style. Whether you're a die-hard booster from the days of Jean Pronovost or a big fan of Sid and Geno, this book is a must have for any true Penguins fan.
Don't forget to check out Rick's first book, "Total Penguins," at TriumphBooks.com. A complete and comprehensive book on the team's rich and storied history, it's filled with season-by-season summaries, player profiles and stats, bios on coaches, general managers and owners, photos from the "Post-Gazette" archives, and much, much more.
*Be sure to check out Rick Buker's books,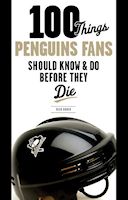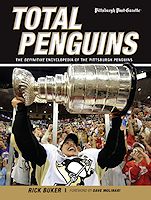 available at TriumphBooks.com, Amazon.com, and BarnesandNoble.com