Being tied 1-1 with Tampa Bay after two games is hardly reason to push the panic button. And I'm certainly not advocating any kind of sweeping changes. But I have a couple suggestions for coach Dan Bylsma that might help the Penguins' cause.
First and foremost, I'd bench Chris Conner in favor of Eric Tangradi. It's nothing personal. Conner's a gritty little guy who works his tail off each and every shift. But aside from pushing his sweat glands to the limit, he simply doesn't produce (two goals over the second half of the season). Considering his small stature and the fact that he's easily muscled off the puck … well, we're not talking about the second coming of Martin St. Louis.
It's true that Tangradi hasn't exactly burned up the track, either. However, despite limited playing time he's displayed good instincts and a nose for the net. He enjoyed arguably his best game in the black and gold on February 11–until Trevor Gillies tried to deposit his head into the 10th row of seats.
The reason Conner dresses over Tangradi is speed. But wheels don't necessarily make for a better hockey player. Guys like Rico Fata and Konstantin Koltsov could skate like the wind. The last time I checked, neither was on the Hall of Fame ballot.
Tangradi is part of the team's future. Conner isn't. It's time to give the kid a chance.
Along the same lines, I'd like to see Deryk Engelland return to the defensive mix. While Brooks Orpik has made it his personal mission to thump every Bolt in sight, the Lightning forwards are a little too comfortable around the Penguins' net.
I guarantee Ryan Malone won't try to crawl inside Marc-Andre Fleury's jersey after every whistle with "the King of Engelland" patrolling the blue line. I doubt if Vinny Lecavalier would be as anxious to shed his gloves–as he did in the opening moments of Game 2–if he knew he might have to tangle with Deryk.
Engelland brings more than a touch of nasty to the table. He's a "fox hole" guy–an outstanding leader who'll sacrifice himself for the good of the team. He's one of the Pens' best defenseman at getting his shots on net. While it's true Deryk has a little trouble with his turns, Bylsma can limit his exposure to the likes of St. Louis and Steven Stamkos. The pluses outweigh the minuses.
Of course, this move's a little problematic. Who do you sit? I watched Matt Niskanen closely in Game 2, and he played really well. He's an excellent skater, handles the puck well in tight quarters, and makes intelligent reads. Ben Lovejoy was terrific down the homestretch, although he looked a bit ragged in the first two games of the series.
It's a tough call. But the Pens need Engelland's grit, especially in front of the net.
*Be sure to check out Rick's book, "Total Penguins," at TriumphBooks.com. A complete and comprehensive book on the team's rich and colorful history, it's filled with season-by-season summaries, player profiles and stats, bios on coaches, general managers and owners, photos from the "Post-Gazette" archives, and much, much more. A must have for any true Penguins fan. 
*Be sure to check out Rick Buker's books,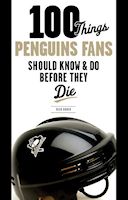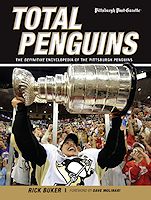 available at TriumphBooks.com, Amazon.com, and BarnesandNoble.com