Within the past week, three possible players the Penguins may have been targeting at the trade deadline have been plucked by other clubs, and in all three instances, the price was fairly low.  The least likely of the three to be acquired by the Penguins was Mike Fisher as he was traded from Ottawa to Nashville last week, but was there really any doubt that that was where he would end up.  I'm pretty sure that trade was orchestrated by his wife,  Country singer Carrie Underwood(I wonder if she will change her name to Carrie Fisher?).  The second, Toronto's Kris Versteeg was dealt to the Flyers for a first and a third in this year's draft which does seem like a bit of a high price to pay for a guy who will have trouble cracking Philly's top six.  The third, again from Ottawa,  was Center,  Chris Kelly for second round pick which Boston could afford as they have plenty of picks in the upcoming draft.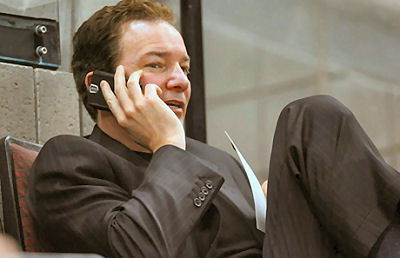 A fourth name linked to the Penguins , PA Parenteau, was resigned today by the Islanders to a one year extension although I'm pretty sure we would not be seeing any deals between Ray Shero and Garth Snow.
The pre deadline day wheeling and dealing continues as Boston makes a big splash acquiring both Thomas Kaberle from Toronto and Rich Peverly from Atlanta giving up a combination of decent draft picks (Which Boston had plenty of), big name prospects (Joe Colborne – Think Tangradi with a ton more upside) and prospects.
Colorado and St. Louis made a huge deal swapping potential superstars Erik Johnson and Chris Stewart, two guys who will be well served by a change of scenery
A little rumbling I'm hearing right now is that Vancouver may  be in the market to find a trading partner.  They have currently lost 5 of their top seven defensemen to injuries, and the Penguins are a team with a surplus of them.  If I was to try and put something together with them, I'd think about sending them Ben Lovejoy for Mason Raymond

While none of these trades impacts the Penguins directly, the effect that it will have is to take three more players off the market come trade deadline day, February 28th.  The reason that will impact the Penguins is that the fewer players available on deadline day, the more folks that will be bidding for them and the higher their price tags could go.  It's my feeling that the Penguins are going to wait until the absolute last minute to try and make any deal, and the reason for this is none other than Sidney Crosby.  Until Shero can get some idea of when Sid will be back playing with the Penguins, his hands are tied as to what kind of deal to make.  I'm pretty sure I'm not going out on a limb to predict that if Crosby, like Malkin, is indeed done for the year, the Penguins stay in the playoffs will be an abbreviated one.  Knowing that, there is no way Shero is going to mortgage the future (Draft picks or prospects) to try and make it an extra round in the playoffs.
Not only, like it seems to be every year, do the Penguins have a need for a winger who can put the puck in the net, but now it appears they made need a Center as well.  Malkin, as mentioned before is out until training camp next year, it will be at least another four weeks before Mark Letestu returns, and there doesn't seem to be any time table for the return of Dustin Jeffrey.
The first name we can remove from the list is Alex Kovalev. THIS IS NOT GOING TO HAPPEN. No matter how many fond memories folks have of Kovalev, we do not need him and his over-bloated salary.  Kovalev would eat up over 60% of the available funds that the Penguins have to offer, and for what, a guy who scored 18 goals last season and has a whopping 13 this year?  So the next time you hear some analyst talking about  how the Penguins are a possible suitor for Kovalev's services, just keep thinking to yourself, "This guy is a moron".
I still think the Center spot can be filled by Jason Arnott.  While his numbers may appear similar to those of Kovalev, at least for this season, you have to remember that New Jersey stunk up the joint for the first 4 months of the season until Ilya Kovalchuk decided to show up.  He has playoff experience, but he also seems to have that gritty will to win attitude that could benefit many of the Penguins' younger players.
The biggest problem is finding a winger, and the reason this is a problem is that most of the wingers who will be available at deadline day are not UFA's at the end of the season.  They all seem to have a year or two left on their contracts.  Guys like Ales Hemsky, Dustin Penner,  and Kristian Huselius all have at least one more year on their contracts at an extremely high salary, and since you have to look at the financial ramifications of what that would do to the Penguins' salary structure for next season when Malkin returns, it's not as cut and dried as you might think to acquire one of these guys.    Another thing making it difficult to land a deal right now is the fact that the teams who will qualify for the playoffs in the Western Conference are still changing daily making teams go from thinking of themselves as sellers to buyers and vise versa.  One day you are looking at possible Calgary Flames that could be available, and the next day, they've moved up closer to a playoff spot and now you have to look at St. Louis Blues.
In all the years since Ray Shero has taken over the GM duties, his hands have never been tied like this.  It's the perfect storm of everything that could go wrong.  Until he can get some clue as to if or when Sidney Crosby will be returning to the line up, he is just going to have to sit on the sidelines and continue to watch other teams make deals acquiring players that may have been good fits here in Pittsburgh, but since Crosby, Malkin, Staal and Fleury are locked up for a long time, it would be really stupid of him to mortgage any part of the future if the Penguins are not going anywhere this year just to possibly make it an extra round.