To say Penguins defenseman Deryk Engelland came up the hard way would be a vast understatement. Indeed, the rugged rearguard's path to the National Hockey League was the ultimate test of patience and perseverance.
A right-handed shooting defenseman of modest ability but enormous heart, Engelland established himself as a battler with the Moose Jaw Warriors. Although he never topped 17 points in a season during his junior career, New Jersey selected Deryk in the sixth round of the 2002 Entry Draft. The 6'2" 202-pounder started out at the lowest rung—the East Coast Hockey League—and began a long and arduous climb up the pro hockey ladder.
After toiling for four seasons in hockey outposts such as Las Vegas, Reading, and Hershey, Deryk's career received a much-needed boost when joined the Penguins' organization in the summer of 2007. The sturdy defender enjoyed three strong seasons with Wilkes-Barre/Scranton while serving as an assistant captain. During a nine-game cameo with the parent club in 2009-10, he made an impression by dropping the mitts three times.
"I'm not surprised," former teammate Dennis Bonvie said. "He's as tough as they come, and he'll fight anybody. He's done that throughout his whole career."
Engelland finally got his big break during the Penguins' 2010 training camp. The departures of Mark Eaton, Sergei Gonchar, and Jordan Leopold created an opening on the Pens' blue line. Deryk seized the opportunity and earned a spot as a No. 6 defenseman.
The 28-year-old rookie made an immediate impact. On October 13, 2010, the "King of Engelland" kayoed Toronto's imposing slugger, Colton Orr, with a booming right cross. Two weeks later he battered and bloodied the Flyers' Jody Shelley, one of the league's top heavyweights. No one-trick pony, Deryk played a steady, physical brand of defense while flashing some underrated offensive instincts.
"He reminds me of [former Pens defenseman] Bob Boughner, but with more skill," play-by-play announcer Paul Steigerwald said.
"One of the things I've liked best is, he does not pick his spots at all, whether it's the toughest player on the other team or the highest-end player on the opposing team," assistant coach Todd Reirden said. "He plays them the exact same way."
The Penguins' brass took note. On January 2, 2011, general manager Ray Shero signed Engelland to a new three-year contract worth $1.7 million. At long last, Deryk had established himself as a bona fide NHLer.
"A three-year deal for anything here, to me, is great," he said humbly. "You're going to be with a great team for the next [three-plus] years. I couldn't ask for anything else."
Following a solid rookie season (10 points and 123 penalty minutes) Deryk endured a setback of sorts when he sat out the 2011 postseason in favor of Ben Lovejoy and Matt Niskanen. To his credit, Engelland used the benching as extra motivation. Through the first 30 games of the 2011-12 campaign he's emerged as one of the black-and-gold's most rugged and reliable defenders (plus-6). While physical play remains his forte, he's added a new level of discipline to his game.
"My confidence is up," Deryk explained. "Last year, you're a little hesitant to make a mistake. If you do make a mistake, it sometimes eats you up. I've learned to let it go. I'm confident right now."
*Be sure to check out Rick's new book, "100 Things Penguins Fans Should Know and Do Before They Die" at TriumphBooks.com. It features 296 pages of bios, stories, anecdotes and photos from the team's colorful past in a compelling, easy-to-read style. Whether you're a die-hard booster from the days of Jean Pronovost or a big fan of Sid and Geno, this book is a must have for any true Penguins fan.
Don't forget to check out Rick's first book, "Total Penguins," at TriumphBooks.com. A complete and comprehensive book on the team's rich and storied history, it's filled with season-by-season summaries, player profiles and stats, bios on coaches, general managers and owners, photos from the "Post-Gazette" archives, and much, much more.
*Be sure to check out Rick Buker's books,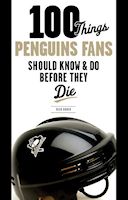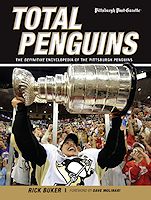 available at TriumphBooks.com, Amazon.com, and BarnesandNoble.com