Skating before a capacity crowd at CONSOL Energy Center on Thanksgiving Eve, the Penguins seemed anxious to get into the holiday spirit. So much so that they felt compelled to share the puck with St. Louis at every opportunity. How else do explain a pair of ghastly giveaways by defensemen Paul Martin and Kris Letang that contributed mightily to a 3-2 overtime victory by the Blues?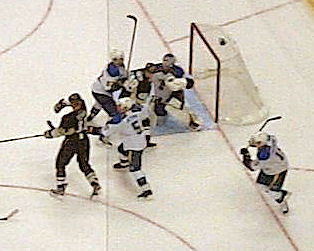 In fairness to the Pens, they obviously were suffering from a case of emotional jetlag in the wake of Sidney Crosby's scintillating return on Monday night. It was especially evident during the opening 40 minutes, when the black and gold struggled to keep pace with a determined St. Louis squad. Wily Blues coach Ken Hitchcock had a hand in the Pens' frustration, instructing his charges to deny the home team their favorite outlet pass up the boards. As a result, the Penguins spent most of the first two periods skating into an on-ice version of a brick wall.
St. Louis struck at 5:33 of the opening frame, when Martin suffered a brain cramp and turned the puck over to Scott Nichol inside the Pens' blue line. In a vain attempt to atone for his mistake, Martin scrambled to block Nichol's shot, only to deflect it over goaltender Marc-Andre Fleury.
Following a dismal first period, Brooks Orpik took it upon himself to light a fire under his slumbering teammates. Resembling the proverbial bulldozer in a construction yard, No. 44 flattened two Blues with a booming hit and gave youngster Vladimir Sobotka a primer in net-front etiquette. Early in the final frame the rugged rearguard torpedoed Roman Polak along the boards with a brutal check.
Inspired by their assistant captain, the Pens finally found their sea legs in the third period. After serving a hooking minor, Tyler Kennedy hopped out of the box and fed Evgeni Malkin below the right circle. Geno curled out to the top of the circle and slipped a picture-perfect pass to Steve Sullivan, who gunned the puck past Brian Elliott at 3:03.
The Blues retook the lead midway through the period on a tally by veteran Jamie Langenbrunner. Once again, the Pens battled back. In another dazzling display of skill, Malkin swung behind the net and found James Neal in the left-wing circle with a beautiful backhand pass. Neal blasted his 13th goal of the season past Elliott to knot the score at 2-2 and send the game to overtime.
As the clock ticked down to a minute remaining in overtime, the contest appeared to be headed to a shootout. However, Letang committed a horrible turnover in the slot, which led to the game-winner by Alex Pietrangelo.
"The first two periods weren't good, no real explanation or excuses," Crosby said afterward. "I think we were outplayed and the third we were much more desperate and got to our game a little more and got our results, but we didn't deserve that one."
Ice Chips
Malkin (two assists) earned the No. 2 star … Fleury (40 saves) was brilliant in defeat … Sid failed to register a point, but was on the ice for both Penguins goals … Orpik paced the Pens with a game-high nine hits while logging 28:44 of ice time… Sullivan scored a goal in his second-straight game … Deryk Engelland fought Ryan Reaves at 11:06 of the first period … Dustin Jeffrey, Ben Lovejoy, Steve MacIntyre, Alexandre Picard, Brian Strait, and Joe Vitale were scratches.
On Deck
The Penguins (12-6-4) wrap up their home stand Friday night against Sergei Gonchar and the Ottawa Senators (10-9-2). The Pens lead the Sens (41-26-11) in the all-time series.
*Be sure to check out Rick's new book, "100 Things Penguins Fans Should Know and Do Before They Die" at TriumphBooks.com. It features 296 pages of bios, stories, anecdotes and photos from the team's colorful past in a compelling, easy-to-read style. Whether you're a die-hard booster from the days of Jean Pronovost or a big fan of Sid and Geno, this book is a must have for any true Penguins fan.
Don't forget to check out Rick's first book, "Total Penguins," at TriumphBooks.com. A complete and comprehensive book on the team's rich and storied history, it's filled with season-by-season summaries, player profiles and stats, bios on coaches, general managers and owners, photos from the "Post-Gazette" archives, and much, much more.
*Be sure to check out Rick Buker's books,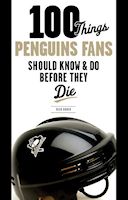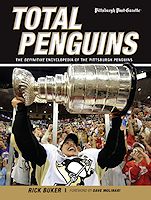 available at TriumphBooks.com, Amazon.com, and BarnesandNoble.com